The 253.54km timed special of stage four threw up a few surprises for the competitors with a mixture of fast tracks and some technical terrain. Covering an area already used in this year's rally, traces already in the Chilean desert caused some confusion for the riders and careful navigation was necessary to post a good time.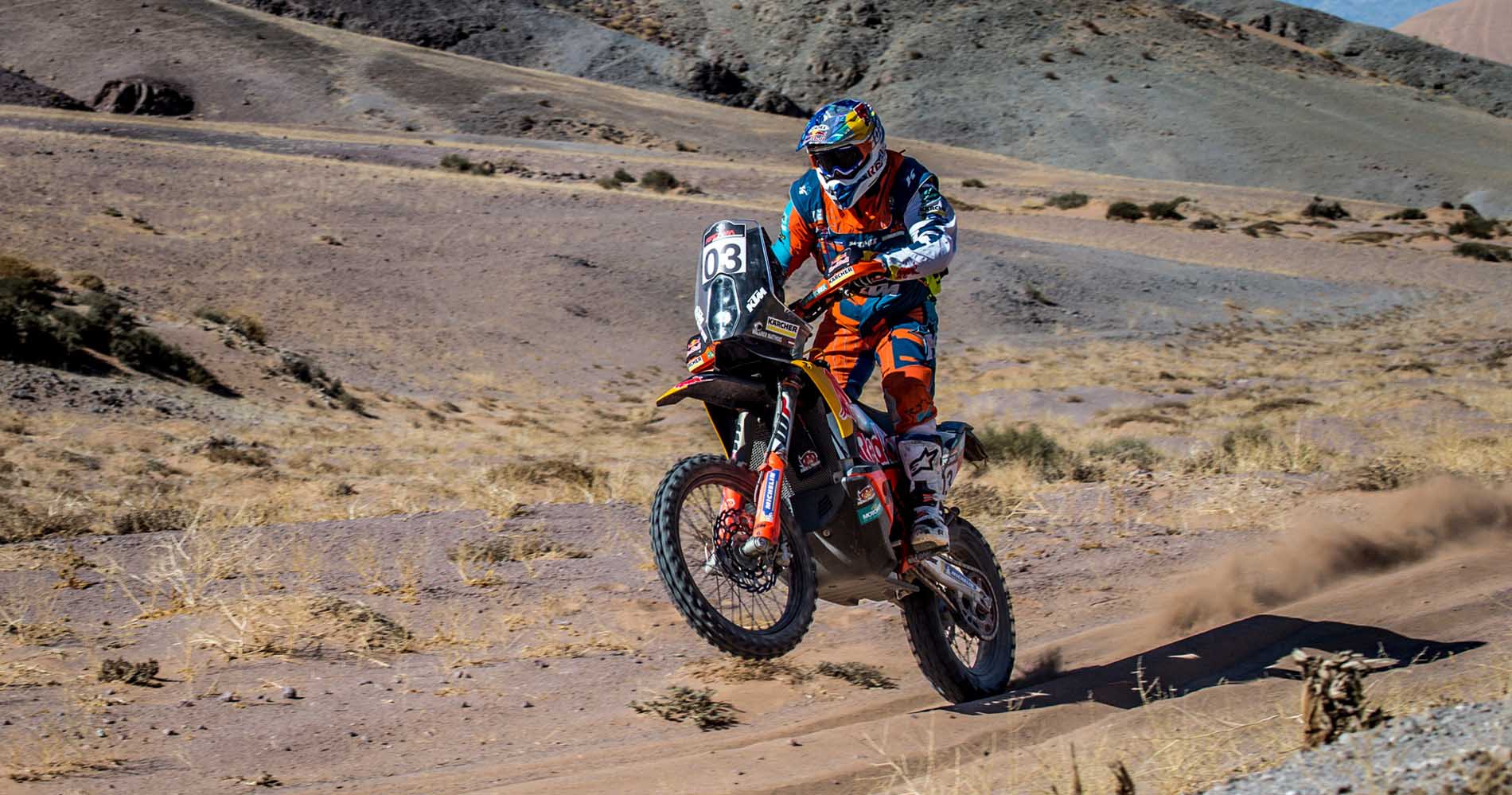 Using his experience Matthias Walkner was able to master the challenging stage and ultimately post the fastest time of the day. Despite a couple of minor errors early on in the stage, the current Dakar Rally champion brought his KTM 450 RALLY home in first place, which in turn moved him up to fourth in the provisional overall standings.
Matthias Walkner: "It was a good day today. I was worried at first after losing some time near the beginning of the stage – there were a few dangers I was careful over and could have perhaps attacked a little harder. From then on, I kept my head down and just aimed to reach the finish quickly and safely. Navigation was tough with so many tracks laid down already, you had to rely on your skill to keep to the correct route. I am happy to take the win and I'm looking forward to tomorrow's last stage."
Completing another fast and consistent day, Toby Price finished just 22 seconds down on Walkner. Happy with his riding, Price sits second in the provisional overall standings, just over three minutes down on the rally leader. With one stage to go, Toby will be looking to wrap up his week-long Chilean adventure on a high note.
Toby Price: "Overall I am happy with how the stage went, second fastest is good and I was able to close the gap on the overall leader. I am a little frustrated because I relaxed a bit toward the end and missed a cap, so that cost me a little time. But I'm happy to be here in one piece after such a quick stage and I'll push again on the last 150km tomorrow. If I can stay on the podium that will be great."
2017 Dakar Rally Champion Sam Sunderland was unfortunately forced to retire from the rally after clipping a hidden rock eight kilometres into the timed special and injuring his foot. Medical staff have since diagnosed a fracture of the second metatarsal in Sam's right foot.
Sam Sunderland: "Obviously I am massively disappointed to retire, especially as I was feeling really good out there and knew I had a good chance of making up some time today. It's frustrating to have injured myself as it will mean I'm off the bike for the next few weeks, but I am grateful it wasn't anything more serious as the mistake happened on a really fast part of the track."
The 205.54km fifth and final stage of the rally includes a short 154.94km timed special once again in a loop north of the Chilean mining town of Copiapó. (source: red bull ktm factory racing)
STORY: Etappensieg für Matthias Walkner (german)
STORY: Sam Sunderland earns second on Atacama Rally stage 3
LINK: Atacama Rally
LINK: KTM Rally
photos (c) Rally Zone