Reaching the end of a gruelling stage two at this year's Atacama Rally, Pablo Quintanilla is currently second in the event's provisional overall standings. Wrapping up the rally's longest stage with a strong sixth place result, the Rockstar Energy Husqvarna Factory Racing rider is less than two minutes behind the current overall leader Kevin Benavides (Honda), the winner of stage two.
Taking competitors south and towards the small town of Vallenar, stage two of the 2018 Atacama Rally featured a combination of fast, rocky and sandy sections. Battling through the event's hardest stage so far, Quintanilla posted the sixth best time for the day.
With three stages still to be contested, the Chilean rally star has his eyes set on securing the maximum number of points and thus getting one step closer to successfully defending his FIM Cross-Country Rallies World Championship title.
Pablo Quintanilla: "It was a tough and physically demanding stage. Overall, my pace was good and I did my best to avoid mistakes. The terrain was a lot different to yesterday's stage. Today we had some rocky sections but also some fast tracks. Maintaining that speed for so long had its toll on my body and I felt a bit sore on my back. I tried to move my body as much as I could on the bike to give my muscles time to relax and this seemed to work well. I'm happy the stage is over. The gap to the current overall leader is less than two minutes and with three long stages to go, anything can happen. My goal is to remain consistent and continue giving my best for a good overall result at this event."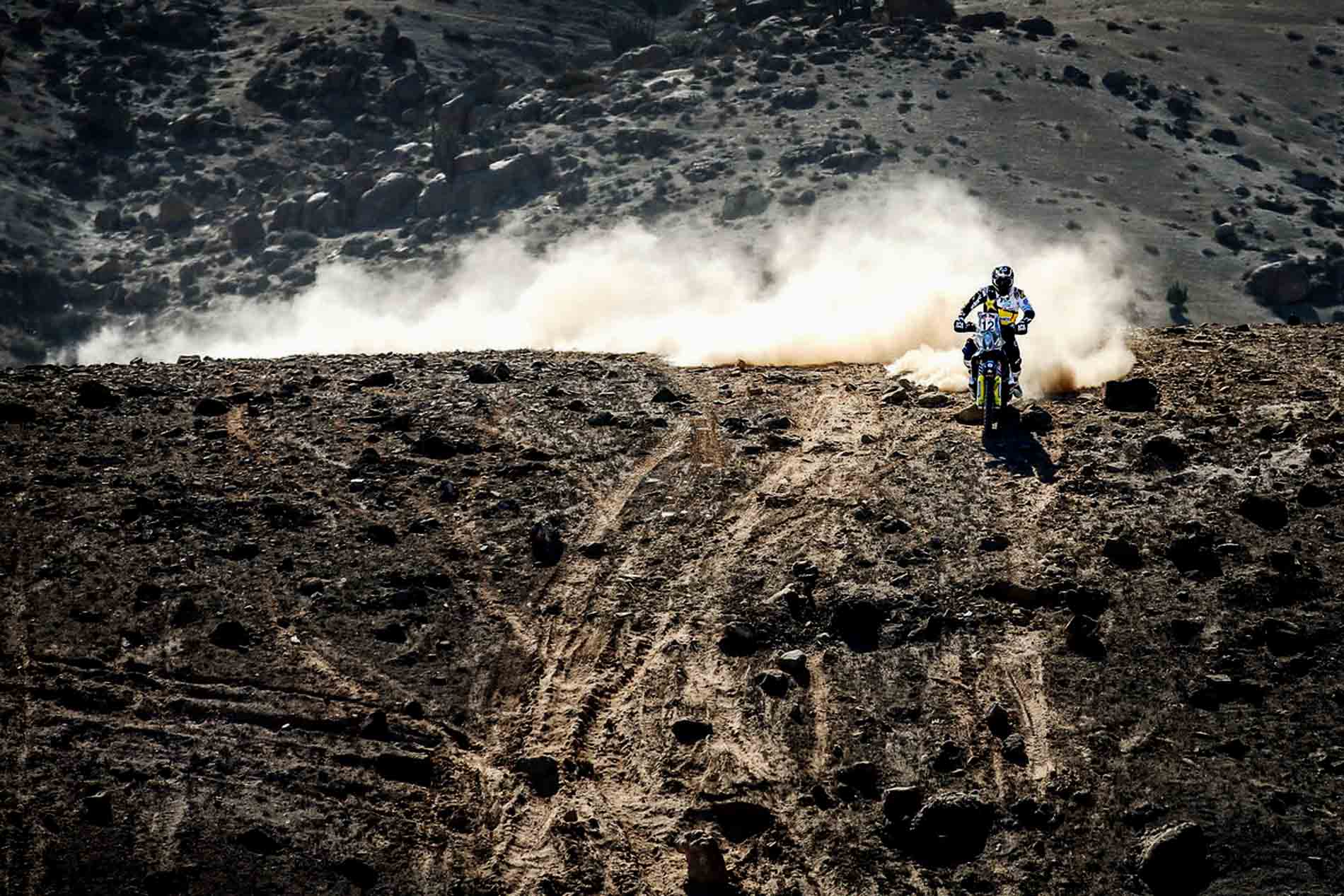 Collecting yet more valuable experience in fast and tricky rally stages, Rockstar Energy Husqvarna Factory Racing's Andrew Short earned a 12th place result on stage two of the Atacama Rally. With three more stages to go, the American is 12th in the rally's provisional overall standings.
Andrew Short: "It was a challenging stage. For me it took time to wrap my head around the speeds of the course. I did the best I could but I didn't really feel I could get a good race pace. There is still a lot of work to do and experience plays a vital role in these conditions. The terrain was also quite challenging today and there were lots of dangerous rocky sections with big stones and not much traction. Regardless, it was fun to ride my bike in a different terrain and there were parts of the stage that I really enjoyed. There were some sandy sections as well and this is probably where I felt most comfortable. Overall, it was hard to match the speed of the top riders today but I will continue doing my best to get as close to them as possible."
Featuring a 259km timed special Thursday's stage three has a total distance of 335km. Starting and ending in Copiapó, it will take riders towards the Ojos del Salado mountain range in the heart of Chile. (source: husqvarna motorcycles)
STORY: Pablo Quintanilla leads the way after Stage One
LINK: Atacama Rally
LINK: Husqvarna Motorcycles
photos (c) Rally Zone