Round six of the World Enduro Super Series saw riders head to the iconic Hawkstone Park circuit in Shropshire, Great Britain. The weekend comprised of a Sprint Enduro on Saturday to determine start positions for Sunday's main event – a two-and-a-half-hour Cross-Country race. With the stereotypical British weather bringing a mixture of rain and sunshine to the area, the soft, loamy sand of the famous Hawkstone motocross track became extremely muddy in places while conditions remained drier in the sheltered woodlands.
Saturday's Sprint Enduro was comprised of one enduro test and one motocross test, both ridden three times. Josep Garcia, back onboard the KTM 250 EXC-F that carried him to the 2017 Enduro 2 World Championship, was unstoppable on the demanding British terrain. Topping the time sheets on both tests, Garcia claimed pole position for Sunday's main event. Second fastest was Nathan Watson with Taddy Blazusiak finishing fifth, just behind KTM-mounted Jaume Betriu in fourth.
Sunday dawned wet, but soon cleared to leave a dry and bright day. However, the overnight rain left a notably challenging course. The tougher conditions, added to the high number of competitors, ensured the afternoon's event was a serious test of endurance.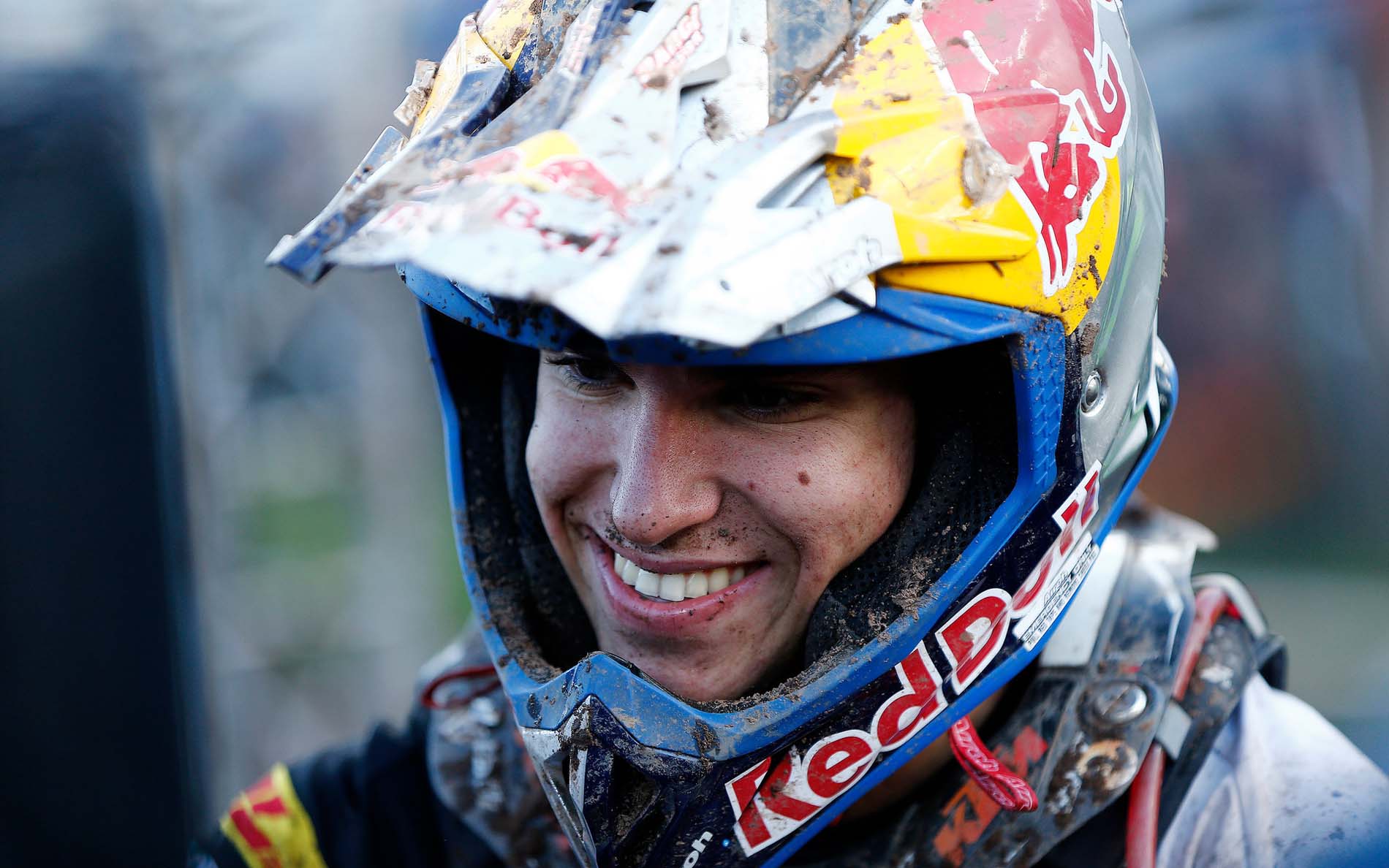 Garcia, setting off from pole position, never looked back. The young Spaniard stretched out a comfortable advantage over the second-placed rider and was able to then manage his advantage to the finish line. Showing his world championship winning pace, Josep took the chequered flag at the end of the gruelling race with a one-minute-30-second advantage over teammate Watson. The win at Hawkstone Park elevates Garcia to third overall in the provisional WESS standings.
Josep Garcia: "I am really happy to win my first event in the WESS. I felt really good in the race – I set off first and stayed in front the whole time. My team were great, they let me know how much of an advantage I had and so I was able to gauge the gap back to Nathan. I did have a couple of crashes, one where I was lapping a slower rider – unfortunately he stopped and I hit him and went over the bars. Luckily, I was mostly ok and didn't hurt myself. It's been an awesome weekend – fastest on both days. It's given me added motivation for hopefully another good result at the next round."
For Nathan Watson the race started well but the young Brit was forced to pit early due to an issue with his goggles. The time lost dropped him back to third, but the KTM 350 EXC-F mounted rider was able to fight his way back to the runner-up position and hold it to the line.
Nathan Watson: "That was a great race. I got a good start and moved into second but then on the first lap a stone flew up and damaged my goggles so I had to make an early pit stop. Billy caught me and was really fast through the stones – he was riding straight through the middle, but I was riding around them. I was gaining time back on the faster stuff and eventually got into a good rhythm and was able to move back into second. I didn't have enough left to go after Josep, he was riding well today but overall I am happy with my result and it's great to get my first WESS podium."
Keen to earn himself more valuable championship points, Taddy Blazusiak pushed hard all weekend, impressing on the Sprint Enduro tests to take fifth and continuing that form to go one better on Sunday's Cross-Country. Despite a number of small crashes, Blazusiak kept his focus and was able to maintain a good pace on the extremely rough sandy terrain. Taddy now sits fifth in the provisional WESS standings.
Taddy Blazusiak: "I am really happy with my riding today. I made a few mistakes in the first lap and ended up clipping a tree – I hurt my hand again a little and lost some confidence. I got back going again and was in sixth, but I'd made a small mistake with my settings and was struggling in a few places. It felt like I was using too much energy to try and stay with the guys in front so I had to back off a little. Overall though I am happy with my result. It's been quite a lot of time since we've done a race like this so I have learned a lot for the next one. My speed has been good, even on yesterday's Sprint Enduro, which is something we haven't trained for for a long time, so that is encouraging too." (source: red bull ktm factory racing)
Results – Hawkstone Park Cross-Country, Round 6
1. Josep Garcia (KTM – ESP)
2. Nathan Watson (KTM – GB)
3. Billy Bolt (Husqvarna)
4. Taddy Blazusiak (KTM – POL)
5. Jaume Betriu (KTM – ESP)
6. Alex Snow (Honda – GB)
7. Manuel Lettenbichler (KTM – GER)
8. Paul Bolton (KTM – GB)
9. Graham Jarvis (Husqvarna – GB)
10. Alfredo Gomez (Husqvarna – ESP)
INTERVIEW: Josep Garcia – The New 'World Enduro Super Series' Title Contender
STORY: Josep Garcia Takes Early Advantage At Hawkstone Park Cross-Country
LINK: World Enduro Super Series
photos (c) Future 7 Media