Wrapping-up an impressive week of racing in Mexico, Red Bull GASGAS Factory Racing's Daniel Sanders has claimed overall victory at the 2023 Sonora Rally, round three of the FIM Rally-Raid World Championship. Opting to sit out round two of the series – the Abu Dhabi Desert Challenge – Sanders hit the ground running in Mexico, completing a near perfect event in which he earned no fewer than three special stage victories.
Provisional Standings – Sonora Rally 2023
1. Daniel Sanders (GASGAS) 11:01:09
2. Tosha Schareina (Honda) 11:09:32
3. Luciano Benavides (Husqvarna) 11:18:25
Seven minutes ahead going into the final day of competition, and not having the pressure of being the first rider into the stage, the final day of competition at the Sonora Rally, thankfully, went exactly to plan for Sanders. Hitting the front by the kilometer 35 mark, he kept on pushing to the finish, picking up the day win and with it a big, fat first ever world rally-raid victory! Despite missing round two of the rally-raid series, victory in Mexico lifts Sanders to fifth in the championship standings.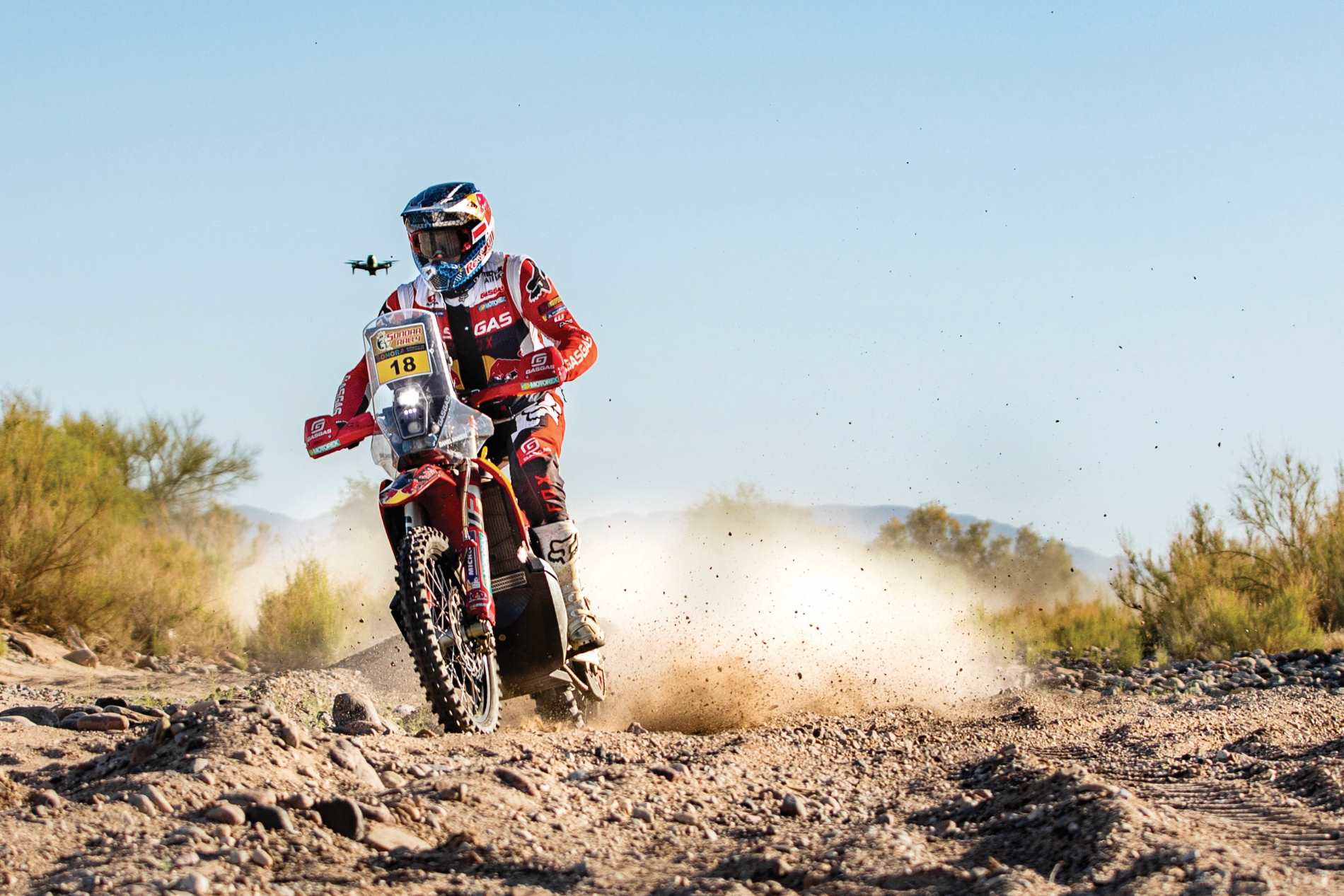 Daniel Sanders: "It's great to get my first rally win. It feels like it's been a long time coming – obviously after a year off it's great to be back where I want to be. Dakar's the big one but getting wins in the world championship is also super important. I've had some bad luck with speed penalties and things like that in some events, so to finally get a world championship win means a lot to me. Also, I feel like I've ridden well this event, leading out on several days, and generally having a good run through the event. Yeah, after a year out and then getting sick at Dakar, it's all heading in the right direction. I'm improving still, and thanks to the team who always give me a great bike I feel like things are really coming together now."
Provisional Standings 2023 FIM World Rally-Raid Championship (after 3 of 5 rounds)
1. Toby Price (AUS), KTM, 62 points
2. Luciano Benavides (ARG), Husqvarna, 55 pts
3. Adrien Van Beveren (FRA), Honda, 53 pts
Norbert Stadlbauer – Rally Team Manager: "New race, new terrain, and a first world championship win for Daniel, which is a well-deserved result. Of course, it was hugely disappointing that Sam was unable to finish the event, but we know he'll be back strong. This really hasn't been an easy rally as the desert style terrain and the cactuses have been something new and different for more or less everyone. But Daniel has been really impressive – coming back to racing and winning, it's amazing how he's improved. Winning multiple stages, and winning when opening stages, he was really impressive, and became more and more confident during the event. A big congratulations to Daniel from everyone in the team."
Daniel Sanders' teammate Sam Sunderland, who crashed out of the event on day two, will head to the UK next week for checkups before, all being well, returning to training.
STORY: Daniel Sanders Sidelined With Leg Injury (May 2023)
STORY: Toby Price Wins Stage Four At 2023 Sonora Rally (April 2023)
STORY: Sam Sunderland Crashes Out Of The Sonora Rally (April 2023)
STORY: Matthias Walkner beim Rally-Comeback auf Platz 5 (April 2023)
photos (c) Cin Cin Movies