Beta Factory Racing's Steve Holcombe has closed to within just four points of EnduroGP World Championship leader Brad Freeman following a hugely spirited performance at the Grand Prix of Italy, held in Rovetta. Continuing to struggle with a virus that has cruelly de-tuned the four-time world champion during recent world championship events, Holcombe ended day one as overall runner-up and just 0.06 seconds behind eventual winner Danny McCanney. Drained but determined to do the best he could on day two, Steve eventually placed fourth overall.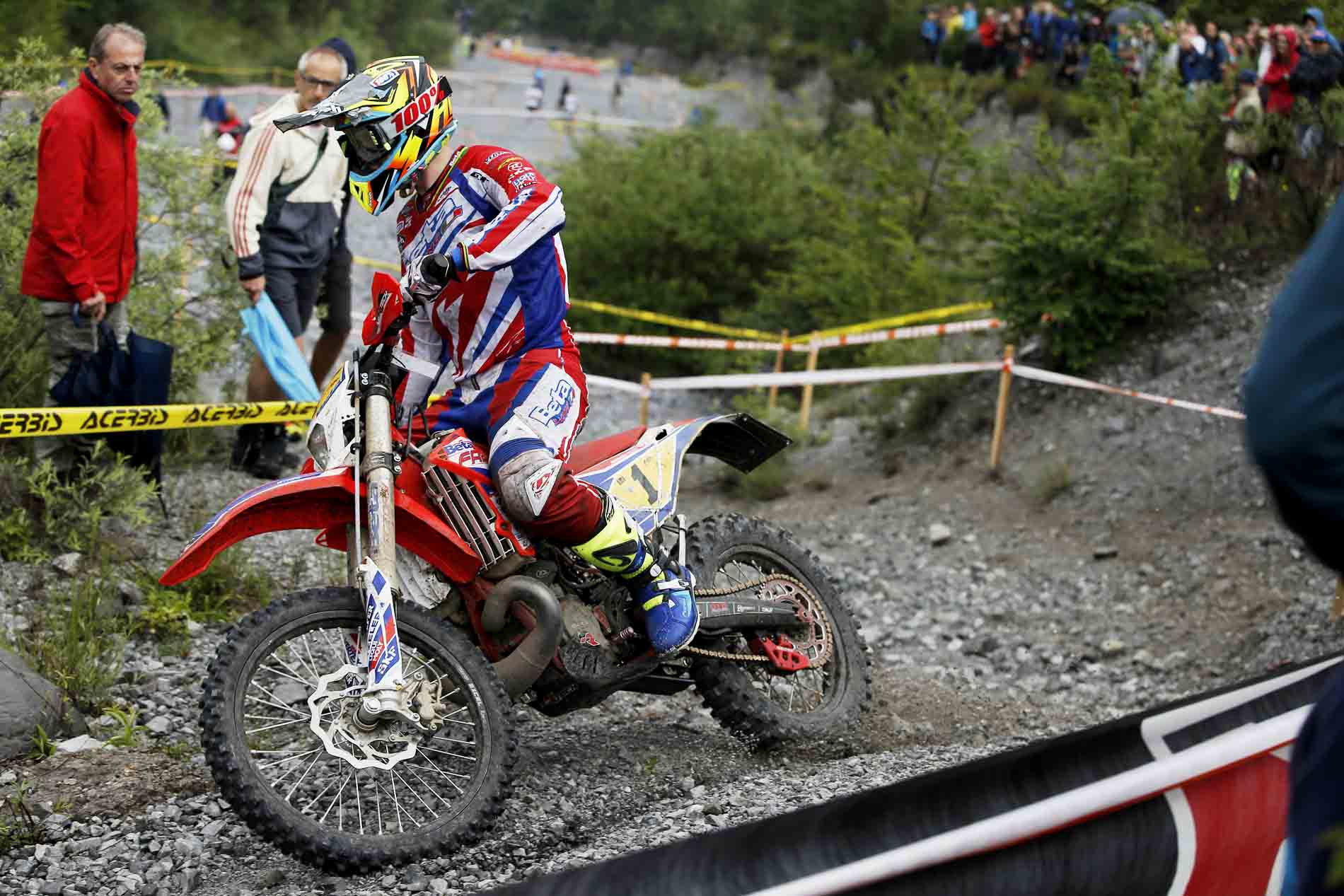 Heavy rain ensured a long opening day was all the more challenging. Hitting the top of the EnduroGP results sheets after the day's seventh special test, Steve remained in contention for the win but would eventually place second overall following a close battle with Danny McCanney.
A little unsure as to how he'd perform on day two, Steve topped the opening enduro test to take a surprise early lead. Staying out front for two further special tests, Steve then dropped to second and remained in that position for much of the day. Finally, out of energy, he moved into fourth overall.
Now a close second in the EnduroGP World Championship standings, in earning 2/1 Enduro3 World Championship results in Italy Steve maintained his position at the top of the series standings.
Steve Holcombe: "The GP of Italy is always an incredible event and this year it was one of the best ever – the amount of people who came out to watch the race was incredible. The weather made it an interesting one, with one wet day and one dry day. I enjoyed it as much as I can the way my physical condition is at the moment. Overall, I'm really pleased with my results. Coming so close to winning on day one and then finishing second is a little frustrating, but still a great result all things considered. On Sunday the opening two laps were ok for me, but then I struggled during the third lap – in the rocky cross test and the enduro especially. But that's what I expected. Being just four points from the lead of the EnduroGP championship is something I really wasn't expecting, but with just two rounds of the championship remaining it means that everything is to play for. Now it's all about rest and recovery the best I can. There's a good break before the next round of the series so I'll use that time to monitor where I'm at with the virus and do all I can to get back into the best shape."
Championship Standings (After round 5 of 7)
EnduroGP
1. Brad Freeman (Beta) 164 pts
2. Steve Holcombe (Beta) 160
3. Danny McCanney (TM) 141
Enduro 3
1. Steve Holcombe (Beta) 191 pts
2. Danny McCanney (TM) 179
3. Anthony Geslin (Beta) 140
STORY: Steve Holcombe Set For ISDE Return With Team Great Britain
STORY: Steve Holcombe Maintains Enduro 3 World Championship Lead Following Tough GP Of Greece
photos (c) Cristiano Morello & Future7Media