Following on from their outstanding one-two on stage six of the 2023 Dakar Rally, Skyler Howes and Luciano Benavides had the unenviable task of opening the timed special on day eight – a stage the organisers promised to be one of the toughest so far in terms of navigation. The Husqvarna Factory Racing duo completed the stage in 19th and 21st respectively.
2023 Dakar – Provisional Overall Classification (After Stage 8)
1. Skyler Howes (Husqvarna) 30:33:16
2. Kevin Benavides (KTM) 30:34:29
3. Mason Klein (KTM) 30:34:29
4. Toby Price (KTM) 30:36:14
5. Pablo Quintanilla (Honda) 30:37:01
Catching his teammate by kilometre 147, Howes then rode together with Benavides through to the finish. Choosing to ensure accurate navigation rather than risk losing a large amount of time through an unforced error, Howes maintained a solid but calculated pace through the 346-kilometre special to complete the stage in 19th place. Although the result reduced his advantage in the overall standings, Skyler Howes still remains top, one minute and 13 seconds ahead of the second-placed rider.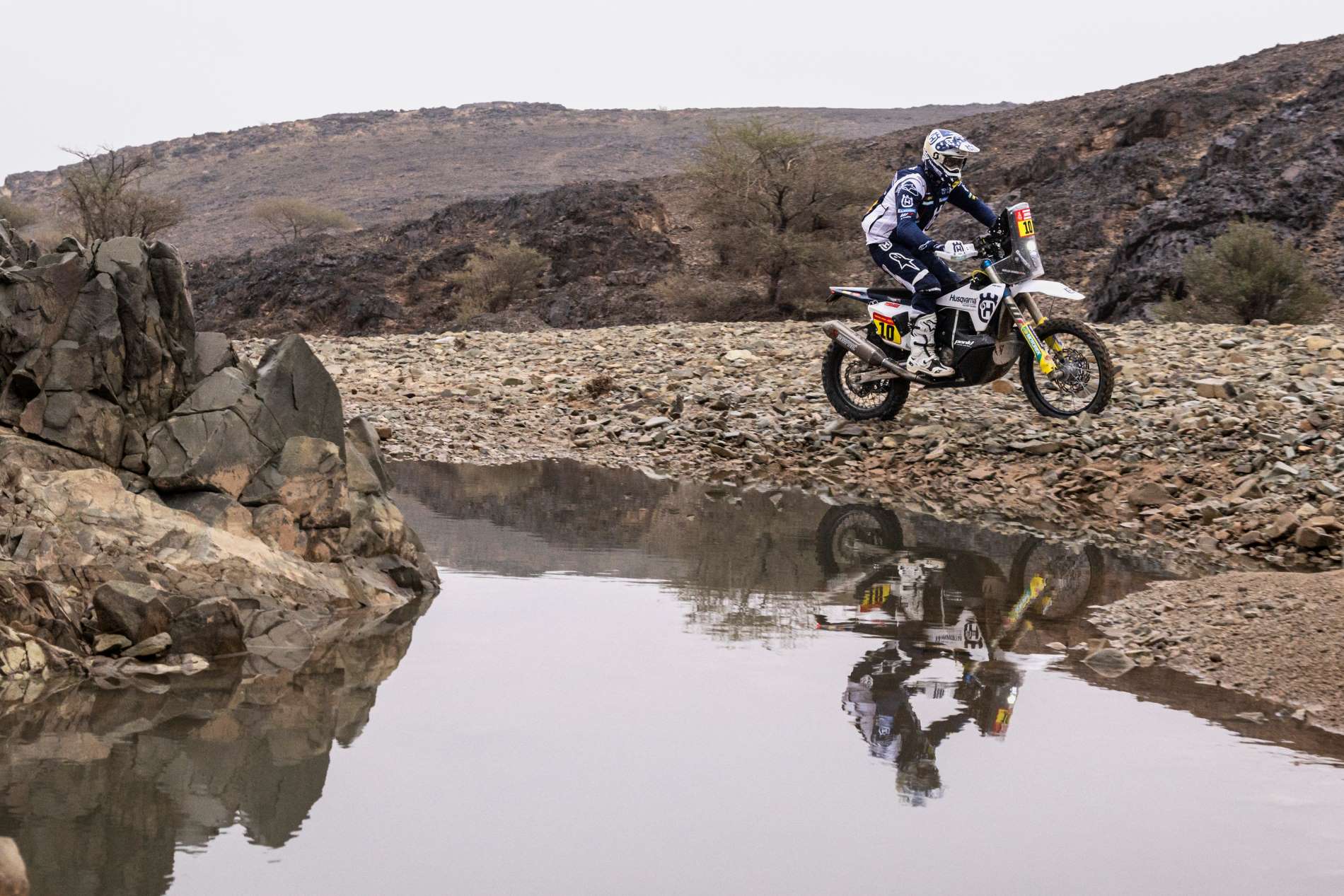 Skyler Howes: "A tough day to open today. We ended up riding in a group of three at the front, and although I think we did a really good job with the navigation, we took a little while to do it. The dirt is really wet, so that leaves a perfectly clear line for anyone following, and of course it makes it far easier to make up time on those ahead. I'd rather lose a few minutes than be going home though, so overall, I'm happy with how the day turned out and I'm still ahead in the overall. It's rest day now, and that's always an important milestone to hit. We knew the first half of this year's event would be tough, and it was! Time to relax a little now before focusing on the final push to the finish next week." (source: husqvarna factory racing)
STORY: Stage Nine Win For Luciano Benavides At 2023 Dakar Rally (January 2023)
STORY: Sanders Holds Dakar Rally Lead With Strong Ride On Stage Four (January 2023)
STORY: Sam Sunderland Crashes Out Of The Dakar On Day One (January 2023)
photos (c) Husqvarna