At the tender age of six, Tjaša Fifer was introduced to the world of motorcycles by her supportive father and brother. This moment ignited a spark within her, and she knew that motorcycles were destined to hold a special place in her heart. While other children might have found joy in riding bicycles, Tjaša found her true passion in motorbikes.
Her passion for riding only grew stronger as she participated in motocross races alongside 'the boys'. Fearless and determined, she took on the challenges that came her way. In 2016, she took a leap of faith and entered the world of enduro and cross-country races in Slovenia, a decision that marked the beginning of her enduro journey. "I sold my motocross bike and got myself an enduro bike. This is how it all began."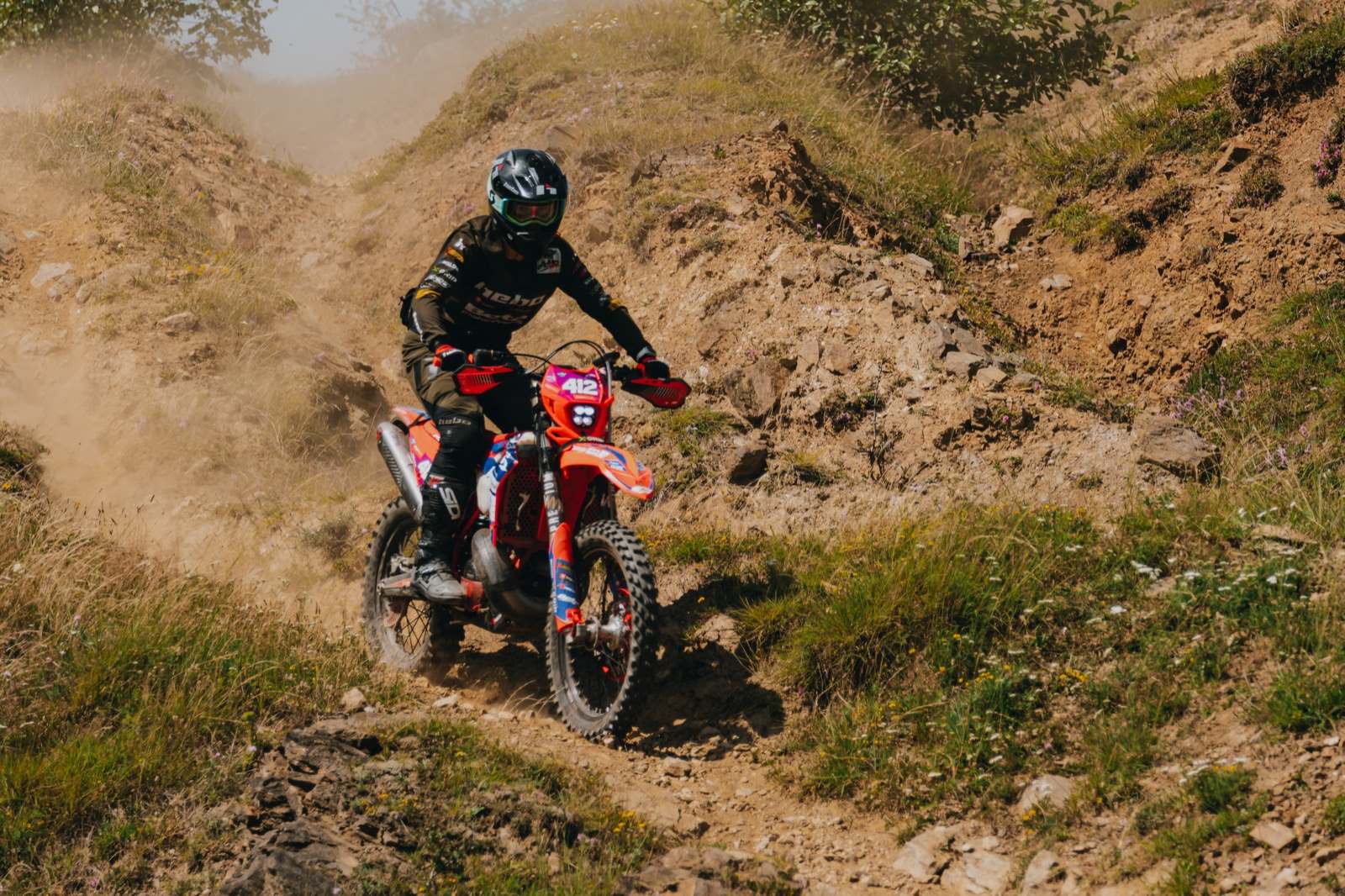 Her journey continues to this day and her accomplishments continue to grow, becoming the cross-country champion of Austria and Slovenia. In addition, she went on to secure the title of national cross-country champion of Slovenia in the silver category among the male participants.
After that her biggest challenge awaited her. "The most challenging race I ever encountered was my debut GP Enduro race in Spain last year. I had prepared tirelessly and was really looking forward to the event. However, during the race, I had a mishap when I landed short on a jump. That caused a broken ankle, torn ankle ligaments, and an Achilles tendon injury. Despite enduring immense pain, I persevered and managed to finish the race. Nevertheless, the recovery journey was far from pleasant, as you can imagine."
And after the challenge, one of her biggest triumphs came along. Tjaša was the second women (after Anna Schmölzl in 2019) to ever win IRON Class at Red Bull Romaniacs, in 2021.
"Wow! The race was absolutely unbelievable! Even to this day, I get chills when I recall the overwhelming emotions I experienced. I could never have imagined that winning a race among 100 guys was possible. But, after a week of intense racing, I secured a 20-minute advantage over my competitors and accomplished the greatest achievement of my career. This result fills me with immense pride and satisfaction."
After this amazing experience in 2021, Tjaša decided to come back for the 20th edition Red Bull Romaniacs. But this time she signed up for Bronze Class. "I said to myself that I would compete in a higher category every year, that became my goal."
"The impossible" became quite a roller coaster for Tjaša. From an outstanding result in the Prologue (39th position, missing the finals by just a few seconds), she was in an unbelievable 13th place after offroad day 1. But then she faced massive problems on off-road day 2. Still, she managed to get her bike going again and finish the hardest enduro rallye in the world. Tjaša placed 15th on the final day for 40th position overall. How does she describe her Romaniacs experience? "In one word, INSANE!"
Her riding performance during those challenging days, coupled with her exceptional ability to fix the bike even in the most demanding situations, added to her unwavering determination to never give up, earned her the Women's Hard Enduro Performance Award supported by GASGAS at Red Bull Romaniacs.
"This award holds great significance for me, as it serves as confirmation that I am heading in the right direction and making the right choices. Success isn't always guaranteed, and not every race ends with a trophy in my hand. Nevertheless, I believe that you can still be a 'winner' for your team, and for the fans. It's about the journey, the growth, and the unwavering commitment to the sport I love."
Tjaša Fifers journey is just about to start as her goal is defined: "I want to leave a mark in this male-dominated sport and inspire other women to join the world of hard enduro. And if there will ever be a hard enduro world championship for women – I will be there!" (source: hewc)
STORY: Manuel Lettenbichler Wins Red Bull Romaniacs 2023 (July 2023)
photos (c) WESS Promotion GmbH