Red Bull KTM Factory Racing's Toby Price has claimed victory at the 2023 Rallye du Maroc. Giving his all to win the final round of this year's FIM World Rally-Raid Championship, his result wasn't quite enough to secure him the rally-raid title. The Australian ultimately finished in second place in the overall championship standings, just four points behind eventual winner Luciano Benavides.
With the championship at stake as well as the overall race result, Price delivered another impressive performance on the short 157-kilometer stage five of the Rallye du Maroc. Third into the stage, the Australian was able to navigate cleanly through the iconic Merzouga dunes of the Moroccan Sahara Desert to bring his KTM 450 RALLY home in sixth place.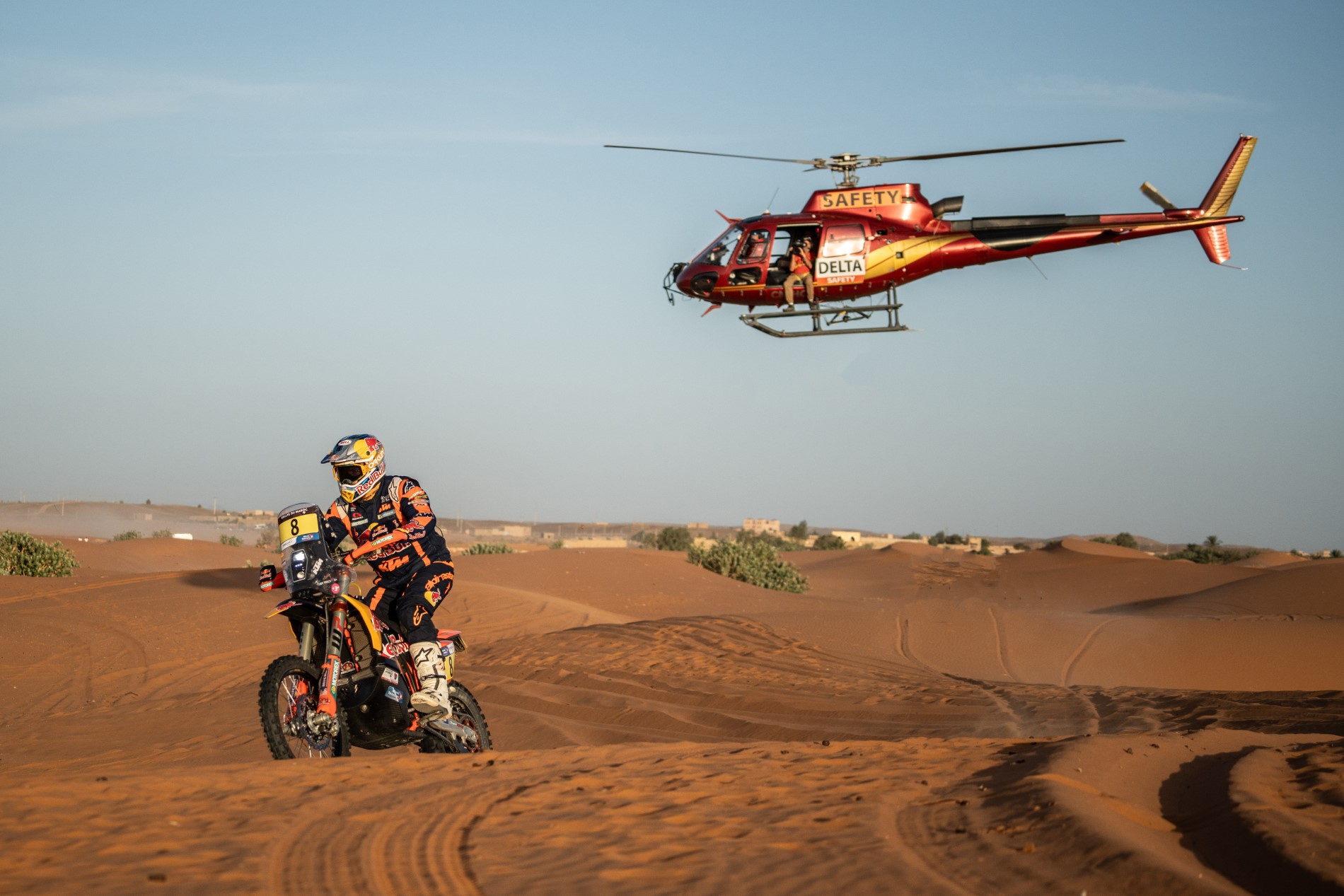 Over the course of this year's Rallye du Maroc, Price has put in day after day of strong performances to take the win by an impressive three minutes. However, with closest rival Luciano Benavides securing the runner-up result, despite his best efforts, Toby Price had to settle for second in the championship.
Provisional Standings – 2023 Rallye du Maroc (after 5 of 5 stages)
1. Toby Price (AUS), KTM, 15:56:43
2. Luciano Benavides (ARG), Husqvarna, 15:59:43 +3:00
3. Pablo Quintanilla (CHL), Honda, 15:59:55 +3:12
4. Ross Branch (BWA), Hero, 16:01:27 +4:44
5. Tosha Schareina (ESP), Honda, 16:05:23 +8:40
2023 has been a year of mixed fortunes for Toby Price, but the two-time Dakar Champion has carried his fight all the way to the final round. Second at the Dakar Rally, missing out on the win by just 44 seconds to Red Bull KTM teammate Kevin Benavides, Price then took the world championship lead with third place at the Abu Dhabi Desert Challenge. A fourth place at the Sonora Rally saw him extend that lead before an unfortunate technical issue at the Desafio Ruta 40 cost him time and his championship advantage.
Knowing he had to win at the Rallye du Maroc, Toby Price gave it everything and came out on top. Disappointed not to have taken the title, but happy with his performances throughout the year, Price now looks ahead to the 2024 Dakar Rally where he will challenge for his third victory at the world's toughest rally-raid. (source: ktm)
STORY: Luciano Benavides Crowned 2023 FIM World Rally-Raid Champion (October 2023)
STORY: Toby Price & Matthias Walkner Gear Up For Rallye Maroc (October 2023)
photos (c) KTM