Red Bull KTM Factory Racing's Nathan Watson has begun the defence of his French Beach Race Championship title – the CFS: Championnat de France des Sables series – with a strong second-place finish at round one. In the deep sand of Berck in northern France, the British rider put in a come-from-behind ride in the Gold Final to claim the runner-up result. Teammate Camille Chapeliere suffered three unfortunate crashes during the final to finish 15th.
Marking the start of the CFS: Championnat de France des Sables, the Berck Beach Sand Cross saw competitors face two qualification heats before entering the main event final. Different from the traditional three-hour beach race format, the Gold Final was played out over 25 minutes plus one lap. The short course, combined with deep sand and heavy traffic, ensured closely fought racing.
Eager to make a strong start to his title defence, Nathan Watson began his weekend confidently. Immediately feeling at home in the soft sand, he rode his KTM 450 SX-F to a pair of commanding wins in his qualification heats, while also setting the outright fastest time.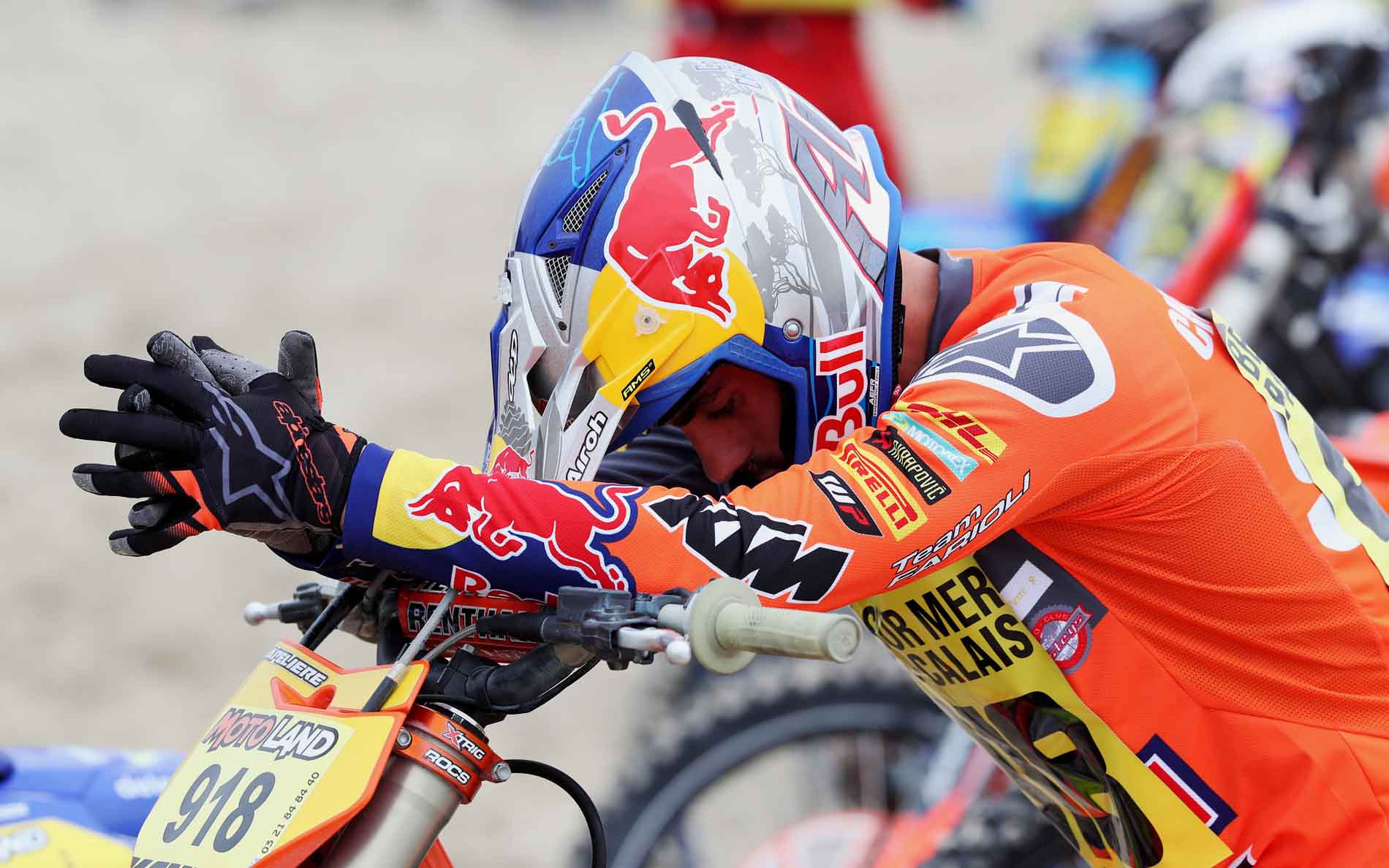 Determined to carry that pace into the Gold Final, an over-eager launch at the start saw him touch the starting gate, resulting in the loss of valuable places. But a fast opening lap put Nathan into the lead. However, a mistake shortly after resulted in a small, but costly crash. On a traffic filled track, the Brit worked hard to regain positions during the short moto and eventually ended his race in second position.
Nathan Watson: "Leading every lap to win both my heat races saw the weekend get off to a perfect start. I felt really comfortable with everything and by setting the fastest lap time I knew my speed was there to win the Gold Final. But I misjudged the start and tipped the starting gate. I lost a few places, but a charge on the opening lap got me into the lead. However, another small crash cost me the lead again and I slipped down the running order. I lost my rhythm and didn't quite get back to the pace I had in the heats. With the lap being short and the sand so deep, it's probably the most unforgiving of tracks to make mistakes on. Despite those errors I'm pleased I got back to second and grabbed good points ahead of round two next weekend."
For Camille Chapeliere, the Berck Beach Sand Cross didn't deliver the final result he'd hoped for. Proving himself a podium contender during the qualification heats thanks to second and third place results, three crashes in the Gold Final ultimately hampered his progress.
Claiming the holeshot, Chapeliere initially led the proceedings before he tipped over in the soft sand. Becoming stuck under his bike, he lost over one minute. Fighting his way back up the leader board to fourth, a top-three result looked likely until he collided with a fallen rider out of sight. Damaging the front of his bike, he soldiered on bravely to salvage 15th.
Camille Chapeliere: "I'm disappointed how the final worked out, crashing three times. I had shown good form during the qualification heats and came into the final race confident about what I could do. I got the holeshot but crashed on lap one and was stuck for almost one minute. I worked my way back up to fourth, but then crashed into a fallen rider and tweaked the front of my bike. On this tight track it was difficult to ride, so 15th was the best I could do. Overall, it's not the start I wanted to my championship, but I know from the work I've put in, and what I showed in my heats, that I am prepared, I just needed a little more luck today."
Provisional Results Championnat de France des Sables 2019/20
Round 1: Berck Beach Sand Cross
Gold Final
1. Maxime Renaux (FRA), Yamaha, 9 laps 29:18.050
2. Nathan Watson (GBR), KTM, 9 laps 29:30.600 +12.55
3. Jeffrey Dewulf (FRA), KTM, 9 laps 29:50.070 + 32.02
4. Todd Kellett (GBR), Yamaha,9 laps 30:32.400 +1:14.350
5. Milko Potisek (FRA), Yamaha, 9 laps 30:39.640 +1:21.590
STORY: Nathan Watson Wins French Beach Race Championship Round Two
STORY: Nathan Watson French Beach Race Champion With Enduropale Du Touquet Victory
LINK: CFS: Championnat de France des Sables 2019/20
photos (c) Haudiquert P.