Comprising a route of close to 80% off-piste terrain, stage two of the Desafio Ruta 40 has proven to be one of the toughest days of the 2018 championship so far. Despite being relatively short with a timed special measuring 317.7km, the rough nature of the stage really tested the riders' strength and endurance to their limits.
Following his fourth place on Monday's stage one, Toby Price set off from the bivouac Tuesday morning with the aim of making up time lost due to a faulty GPS tracker. With his Red Bull KTM Factory Racing team-mate setting off three minutes ahead, Price pushed right from the start and made up the deficit by the stage's halfway point. Riding a smooth but fast pace over the technical terrain, the Australian's time of just under four hours 17 minutes was enough to take the stage win and in turn, the lead in the provisional overall standings.
Toby Price: "That was a much better stage for me, although it was extremely tiring due to the nature of the route. There was a lot of off-track work through fesh-fesh and camel grass and it really took it out of you physically. With no GPS issues I was able to push hard today and caught the guys in front by the neutralisation. After that I kept to a good solid pace and aimed to ride as smooth as possible to stay safe and conserve some energy. I'll get rested up now and hopefully tomorrow will be a little easier on the body."
Also enjoying a successful stage two, Matthias Walker brought his KTM 450 RALLY home in second place, just two minutes 17 seconds behind Price. Despite not finding the gruelling Argentinian timed special too enjoyable to ride, Walkner was still able to maintain a fast pace over the rocky ground and now sits third in the provisional overall standings.
Matthias Walkner: "That was a long, tough day for me. Of the 320km so much was rough, off-piste riding that the stage felt a lot longer than it was. The pace is so high, and in some sections you really have to rely on your road book to warn of the dangers as you are covering the ground so fast. I am pleased with my result and will try to chase down Toby tomorrow. After that, I'm hoping the last two days will be a little smoother."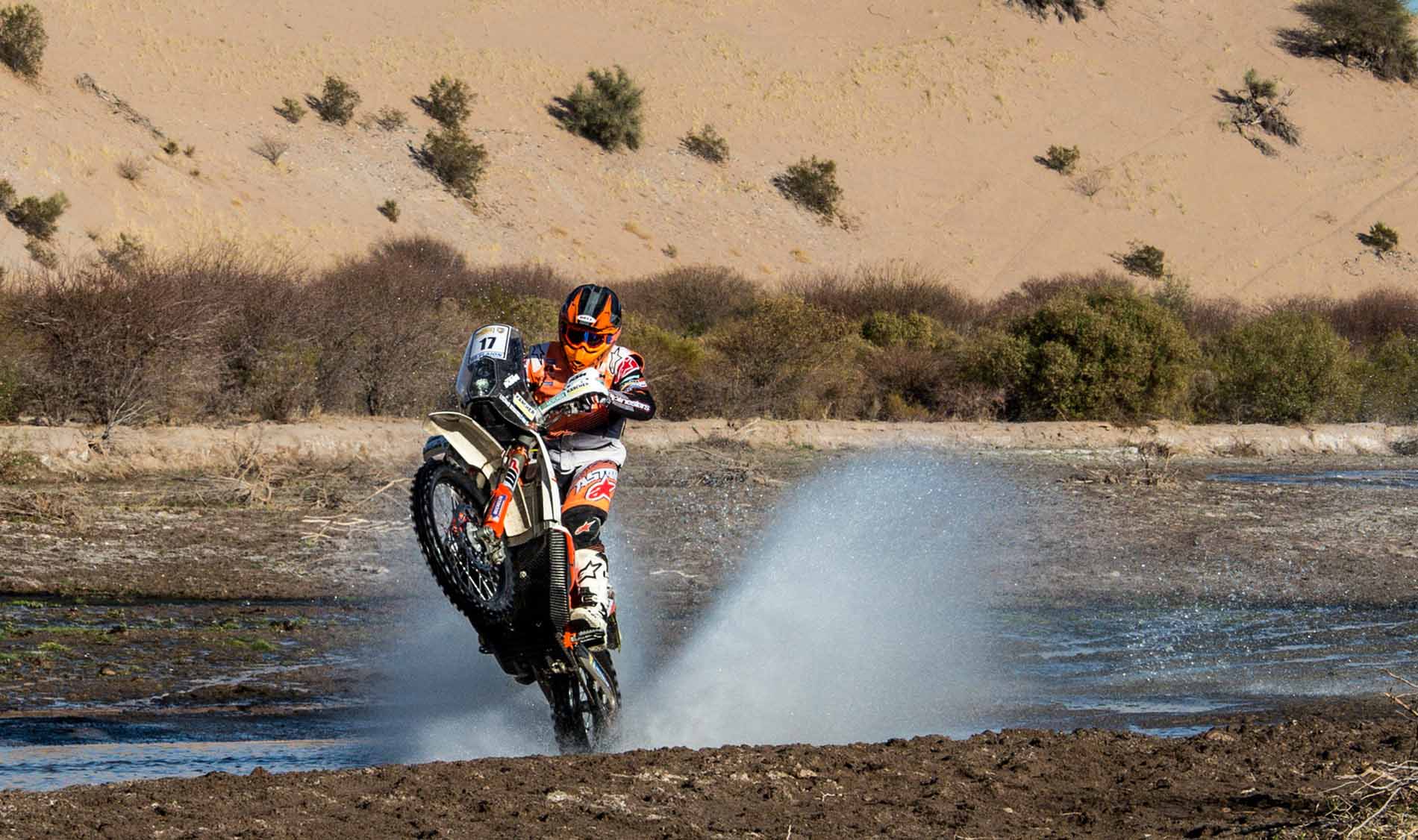 Excelling at his home event, Luciano Benavides continues to increase his knowledge of cross-country rallying. Having another good day in the Argentinian dirt, the local rider placed sixth on the day's stage but his consistency moves him up to fifth in the provisional overall standings. Starting to find a good rhythm, Benavides hopes to continue improving over the rest of the rally.
Luciano Benavides: "I am tired but happy with how the day went today – it was a really long stage with a lot of challenging terrain and dangerous rivers. I am starting to really find my pace now and I know my navigation is improving too. I did lose a few minutes by going off-track but soon realised my mistake and was able to fix it. I am happy to arrive safely at the finish and will try to keep up my performance tomorrow."
Provisional Standings after 2 of 5 stages
1. Toby Price (AUS), KTM, 8:30:14
2. Pablo Quintanilla (CHL), Husqvarna, 8:30:58
3. Matthias Walkner (AUT), KTM, 8:31:42
4. Paulo Goncalves (PRT), Honda, 8:32:39
5. Luciano Benavides (ARG), KTM, 8:59:36
The 336.5km third stage of the rally includes a 258.8km timed special – the second shortest of the event – in a loop north of the city of Tinogasta. (source: red bull ktm factory racing)
STORY: Toby Price wins final stage to claim second overall
STORY: Strong Start For KTM Riders in Argentina
LINK: Desafio Ruta 40
LINK: KTM Rally
photos (c) Rally Zone