Stage three of the 2018 Rally du Maroc marked the first half of the event's marathon stage. A short five-kilometre liaison led riders into a 275-kilometre timed special. Comprising a mixture of fast tracks, sand dunes and dry salt lakes, the stage challenged competitors' navigation skills and stamina to the maximum. Riders will camp out overnight in a temporary bivouac and receive no outside assistance from their teams, only their teammates can help should any maintenance be needed to their machines.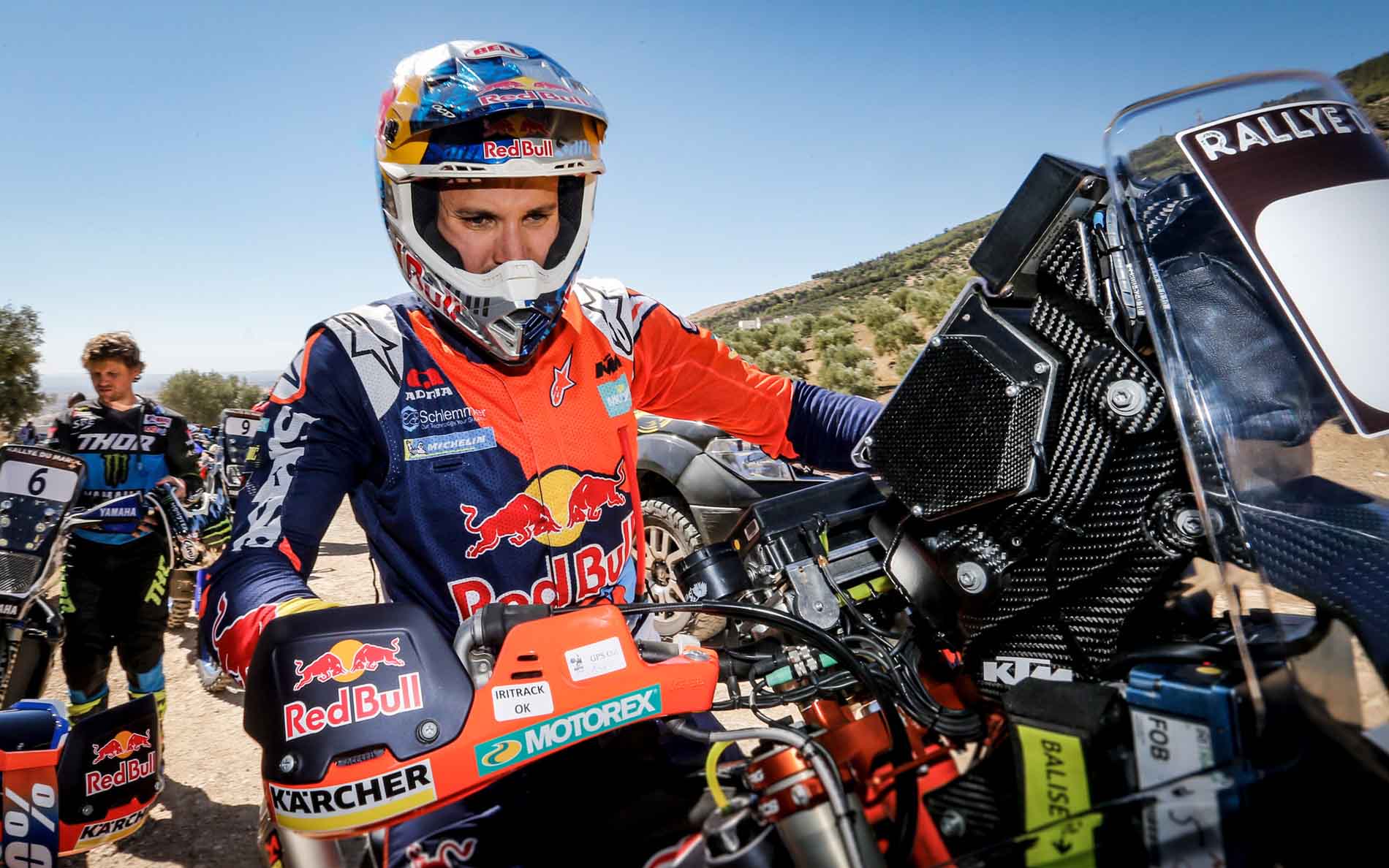 Following his tough Stage Two, Sam Sunderland was the 21st rider into Sunday's stage. Using his skill and experience to successfully navigate the route, the 2017 Dakar champion was able to push hard on the mixed terrain and gain valuable time on the riders ahead. Crossing the line over one and a half minutes ahead of the second placed rider to take the stage win, Sunderland now moves up to 12th in the provisional overall standings.
Winner of the previous stage, Matthias Walkner led the riders away from the bivouac this morning with the aim of staying in front of the chasing pack. Navigating well throughout the 275 kilometres, the Austrian rider was first to make the finish but would ultimately lose out on the stage win to the chasing Sunderland. Nevertheless, his runner-up position was enough for Walkner to take the lead in the standings, over five minutes ahead of Toby Price.
Although riding well on Stage Three, a number of small navigation errors cost Price valuable minutes on the challenging stage. The Australian rider ultimately reached the finish in sixth place, seven minutes and 44 seconds down on Sunderland. With two stages left to race and Toby Price still in the hunt for the FIM Cross-Country Rallies World Championship title, KTM Rally Sport Manager Jordi Viladoms is extremely satisfied with the way the event is progressing.
Jordi Viladoms – KTM Rally Sport Manager: "We are really happy with how the race is going up to now, each rider has performed very well so we now need to keep focused for the remaining two stages. It's clear that the guys are doing a really good job, they are opening the piste every day and still maintaining good positions, this is really encouraging. Matthias and Toby are doing very well, Sam is riding great but unfortunately had some bad luck on Stage Two with his wheel. If it wasn't for that I believe he would be challenging for the rally lead, too. We have to keep the championship in mind as well as ensuring our riders make it to the finish safely. Overall, it has been a great rally so far."
Monday's Stage Four of the Rally du Maroc, will see riders leave the temporary bivouac of the marathon stage on a 317-kilometre route that includes a 294-kilometre timed special – the longest of the rally. (source: red bull ktm factory racing)
Provisional Standings – 2018 Rally du Maroc after 3 of 5 stages
1. Matthias Walkner (AUT), KTM, 9:46:54
2. Toby Price (AUS), KTM, 9:52:48 +5:54
3. Ricky Brabec (USA), Honda, 9:58:52 +11:58
4. Franco Caimi (ARG), Yamaha, 10:12:00 +25:06
5. Pablo Quintanilla (CHI), Husqvarna, 10:13:39 +26:45
STORY: Price Wins Rally Du Maroc Stage Four To Retake Overall Lead
STORY: Stage Two Win For Walkner in Morocco
LINK: Rally du Maroc
LINK: KTM
photos (c) Rally Zone