Following the long first stage of the rally, Stage Two gave riders a slightly easier time on their machines with a short liaison leading into a 281-kilometre timed special. The terrain was just as unforgiving however with washed-out pistes and hard-pack, rocky tracks making up the majority of the stage.
Runner-up on Stage One, Matthias Walkner was the second rider to enter the timed special on day two – three minutes behind Price. Using his experience, speed and navigation, the reigning Dakar champion closed in on the leading rider throughout the stage. Ultimately arriving at the final checkpoint just over 20 seconds behind his teammate was enough for the Austrian to claim the win by two minutes and 46 seconds. Walkner, who lies second in the provisional overall standings just 12 seconds down on Price, now has the task of opening Sunday's marathon stage.
Matthias Walkner: "That was a good stage today, navigation was very challenging. I had Toby in front of me, but that made riding quite tricky because of the dust, so I was still forced to rely on my road book. A lot of the pistes are still hard to follow due to them being washed out by the rain, but I managed to complete the whole stage without making too many mistakes. We tried out some new tyres today which have performed well on the rough terrain of Morocco, so it's good to know we can race hard on them and they will last for 290 kilometres. I am really happy with my riding and the bike is working well, we'll see how things go leading the stage tomorrow."
Despite being chased down by stage-winner Walkner, Toby Price was able to keep himself ahead over the entire day. Navigating Stage Two well and making the minimum of errors, Price's second place enables him to retain his lead in the provisional overall standings with three days left to race.
Toby Price: "Stage two has gone really well – I set off first and I finished first on the road so that's encouraging. Leading the full 281-kilometre stage was tough but I think I managed to do a good job with just a couple of small mistakes. I lost a little time finding my way again and I think that's where Matthias was able to make up the three minutes, but overall I am really happy with the day. The new tyres from Michelin held up really well today so on to day three."
Following a tough day one, Luciano Benavides refocused his attention on the rally and put in an excellent performance on Stage Two to finish 13th. A small technical issue cost him some time towards the end of the stage, but overall the young Argentinian rider is happy and ready for day three.
Luciano Benavides: "It was a long day today, the special was especially tough with lots of fast pistes and rough tracks and rivers. The first half of the stage went well, I made a couple of small mistakes but nothing too bad. Unfortunately, I had a small technical issue with my bike that cost me some time, but we were able to fix it quite quickly and complete the stage. I am happy with my riding and still learning a lot so I'm looking forward to another solid stage tomorrow."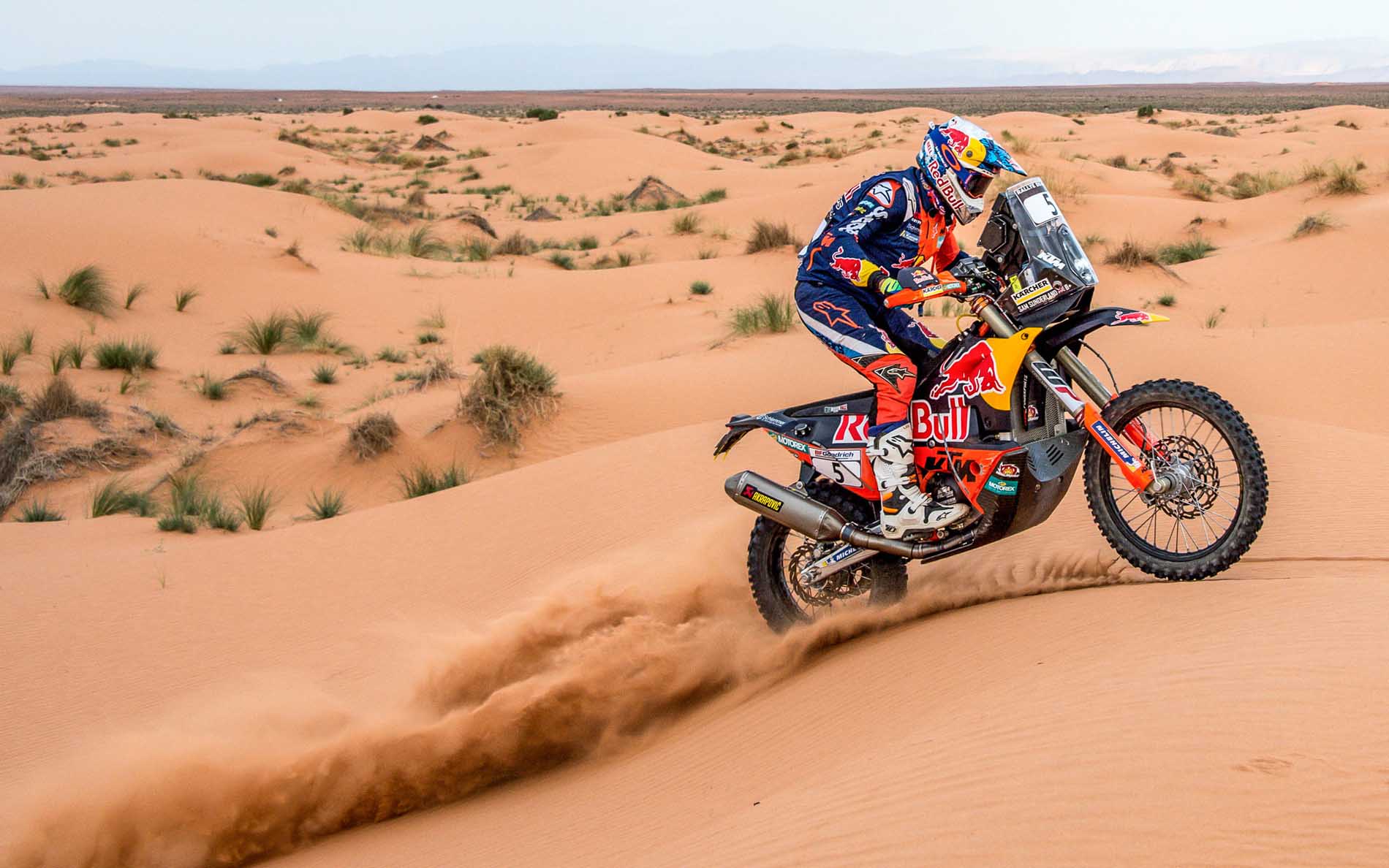 Setting off third at the beginning of today's stage, Sam Sunderland rode an excellent first half of the special to place himself well inside the top-three at the halfway point. Unfortunately, during the rocky stage the British rider damaged his rear tyre, which subsequently lead to an issue with his mousse. Still able to continue, Sunderland brought his KTM 450 RALLY home in 21st place and will aim to regain some time on Sunday's Stage Three.
Sam Sunderland: "Today was a little frustrating, especially after riding such a strong stage yesterday. Things were going well and I was feeling really good, but around kilometre 220 I hit a big rock with my wheel, which lead to damage to my mousse. I carried on ok, but with the mousse damaged it started to break up and it was like running on a flat tyre. I nursed the bike home but obviously lost a lot of time. We still have three days left, so I'll continue to do my best and get some more kilometres on the bike to prepare for Dakar."
Sunday's Stage Three of the Rally du Maroc, the first of the marathon stages, will see riders complete a 280-kilometre route, the finish of which will be at a temporary bivouac in the desert. The riders will receive no outside assistance from their teams at the end of the day's riding. The stage includes a 275-kilometre timed special. (source: red bull ktm factory racing)
Provisional Standings – 2018 Rally du Maroc after 2 of 5 stages
1. Toby Price (AUS), KTM, 5:51:39
2. Matthias Walkner (AUT), KTM, 5:51:51 +12 seconds
3. Ricky Brabec (USA), Honda, 6:03:32 +11:53
4. Paulo Goncalves (PRT), Honda, 6:05:04 +13:25
5. Franco Caimi (ARG), Yamaha, 6:12:59 +21:20
STORY: German version – Matthias Walkner gewinnt die 2. Etappe in Marokko
STORY: Sam Sunderland Fastest On First Half Of Rally Du Maroc Marathon Stage
STORY: Toby Price Wins Rally Du Maroc Stage One
LINK: Rally du Maroc
LINK: KTM
photos (c) Rally Zone