Red Bull KTM Factory Racing's Taddy Blazusiak has won round four of the 2019 FIM SuperEnduro World Championship, in Hungary. FMF KTM Factory Racing's Cody Webb made it a KTM one-two with a runner-up finish in front of the packed Budapest stadium. Following a third-place result Rockstar Energy Husqvarna Factory Racing's Colton Haaker has maintained his position at the top of the Championship standings.
The fast and flowing track laid out in the Papp Laszlo Sportarena, although short, proved to be a serious test for all competitors. Visiting Hungary for the first time, the three-race SuperEnduro event produced some exceptionally close racing with the KTM teammates ultimately taking the top two podium positions.
Superpole went to Webb, with Blazusiak finishing a close second – the results giving the riders their choice of gate-pick for race one. From pole, Webb took the lead into the first corner and set about opening up a good margin over the chasing riders. Although pressured early on by his teammate, Cody went on to claim a flag-to-flag victory with Blazusiak fighting off the challenges from Colton Haaker to finish second.
In the reverse-grid race two, it was Blazusiak who got the best start of the two KTM riders. Moving into second after only a couple of laps, the six-time world champion then faced lapped traffic and was unable to challenge Colton Haaker, placing second at the flag. Webb, after getting caught up off the line, rounded the first turn in last place. After his tough start, Cody also had to fight his way through the pack and eventually finished third.
In the final race, it was Blazusiak who took the holeshot with Webb in third close behind Haaker. For the first half of the race the three leading riders pushed hard, maintaining a fast pace on the demanding course. With the layout of the track making overtaking extremely tricky, and with lapped traffic once again adding to the situation, Taddy Blazusiak managed to hold his nerve and his lead, to ultimately take the race three win and with it the overall victory.
Taddy Blazusiak: "To take the win tonight feels great. I've been mostly off the bike since I hurt my knee in Madrid, so to come here and claim the overall is amazing. I didn't quite have the out-and-out speed this evening, so I knew I would have to be clever and use my race craft. I got two second places and then in the last race I got a good start and knew it would be difficult for the others to pass. I rode clean but defensively and it paid off. Budapest has been great – the track was not too technical, but it was physically demanding and tricky to make time on. I'm really looking forward to Bilbao now in April."
Cody Webb: "It's been a good night for me overall – I'm happy with second. I got a really good start in the first race and was just able to run away with it. In the second race, I started off right on the inside from the second row but I got caught up early and had to fight my way through the whole pack back up to third. In the last race it was good fun battling with the guys up front but it was so tricky to make a good pass – we were all pushing so hard and the pace was relentless. I struggled with traffic later on and couldn't quite close up to the two leaders. We have got a bit of a break now before the last round so I'll keep training and work on my intensity before Bilbao and hopefully be in a good position to fight for the championship."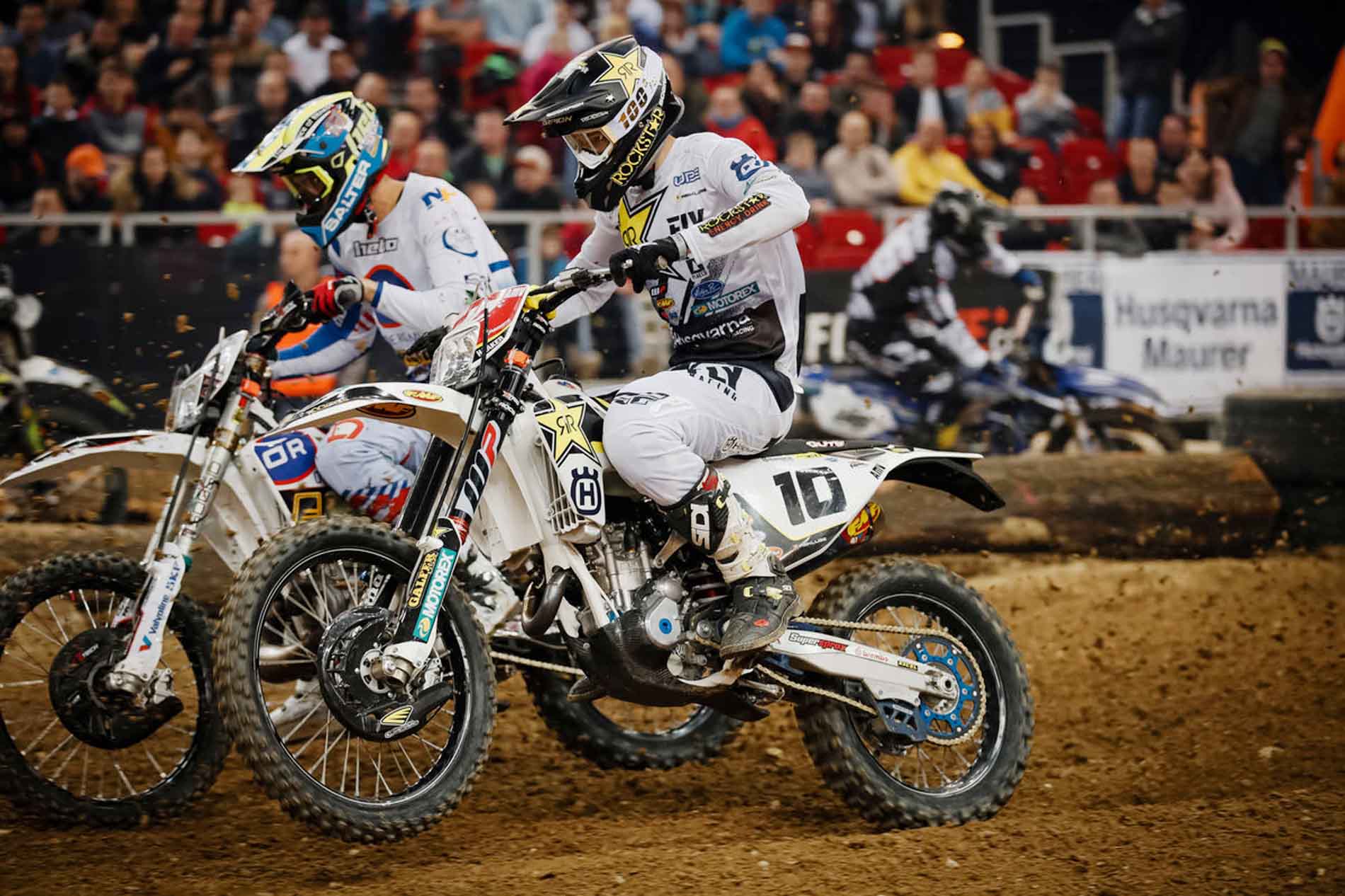 Colton Haaker: "It's been a really close battle out on track all night. Cody, Taddy and myself have been pushing hard and swapping places and that's kept things tight. I had the speed to win, it was just a matter of a couple little things not going my way that pushed me back to third. I stalled the bike in a corner and that cost me some valuable points. I fought hard with Taddy in race one but on a relatively single-lined track he played smart and kept me behind. I managed a great start in race two and came out of the first corner in the lead despite starting on row two and was able to pull away for an eight-second win. I knew race three would decide the overall between us three and I gave it everything I had to put a wheel on Taddy, but credit to him he closed the door every time. Overall, it's been a good clean night of racing and although I lost a couple of points in the championship, I've still got the red plate with a 12-point lead heading into the final round in Spain."
The 2019 FIM SuperEnduro World Championship continues with round five in Bilbao, Spain on April 6, 2019.
Championship Standings (After round 4)
1. Colton Haaker (USA), Husqvarna, 211 points
2. Cody Webb (USA), KTM, 199 pts
3. Taddy Blazusiak (POL), KTM, 184 pts
4. Pol Tarres (ESP), Husqvarna, 122 pts
5. Alfredo Gomez (ESP), Husqvarna, 119 pts
STORY: Colton Haaker Crowned SuperEnduro World Champion
INTERVIEW: "I didn't have any close rivals through the season." – Junior World Cup Winner William Hoare
STORY: Colton Haaker Wins SuperEnduro Round Three
STORY: No Happy Ending in Madrid – Taddy Blazusiak Injured
STORY: Vorschau Budapest – Blazusiak und Webb jagen Colton Haaker
photos (c) Future7Media & Jacky Ley