To many 'Rallye Dakar' followers, Heinz Kinigadner is one of the most spectacular pilots ever. "I won quite a few single days. But I started the 'Dakar' seven times and never once saw the finish line. I was probably one of the fastest riders. But I wasn´t a Rallye kind of guy – regarding preparation and navigation." HartEnduro.at talked with Kinigadner about his personal 'Dakar' history.
Deutsche Version dieses Artikels
After his MX career in the 1980s he wasn´t really all that ambitious anymore, Kinigadner says. "Participating in a Rallye was just for adventure´s sake. The best adventure anyone could wish for." The adventure started in 1992. The KTM legend took the route from Paris to Capetown under a pair of Yamaha wheels – as a paying guest in an Italian team. "It was a disaster, pure and simple", he says about these punishing rookie days. "The bike just fell apart under my ass. I knew it was over when it went up in flames as I was trying to start it." But even so, Kinigadner left an impression by winning the prologue in Paris. "Unfurtunately that meant I had to start first in Libya. And I must say I was scared shitless." Following that he went on what he calls a "steep learning curve": "The roadbook said 120 km to the south you will find a dune and a bush. I rode 120 kms. There wasn´t a dune in sight, and certainly no bush either."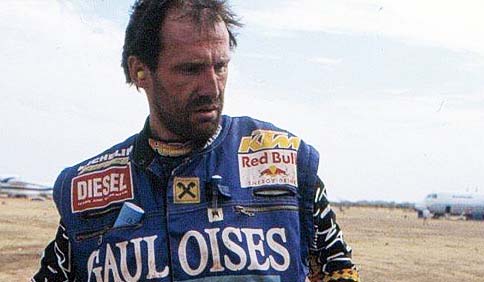 Navigating was much more difficult then, he says. So having the strongest bike wasn´t necessarily the one decisive thing. If you lost many hours because you didn´t know where you were going, even 50hp plus wouldn´t have made up for that. "Today, the riders have at least four or five waypoints on their GPS. So it isn´t the big unknown like it was without GPS." That changes the whole character of the race for him. "Today, riders are trying to be a few seconds faster…and they see it like the 'Tour de France' and try to keep it up over a two week distance."
In spite of the pains of 1992, Kinigadner couldn´t shake the Dakar Virus. He was powered not only by his adventurous spirit but also by a vision for the formerly small and humble motorcycle manufacturer KTM. "My idea was to open a new field for KTM. Mitsubishi had shown that you can create a really good marketing strategy around the Dakar." The idea was to wake hobby pilot´s appetites during the winter months by showing them epic pictures from the desert. The prime target were not professional riders but adventurous amateurs.: "The LC4 was a safe bike because the front fork and shocks were good. It had enough power to do 140 kmh. So lots of fun in the desert was always possible. 85% of Dakar participants do it for the fun and the adventure. Our bike was a top choice for them because it was at least 100 kg lighter than the heavy two cylinder pieces that Cagiva, BMW and the rest of them made."
In 1994, Kinigadner was something like the riding captain of the first KTM team in the Dakar.  The years that followed gave the young team lots of experience – and lessons learned the hard way. "Marokko is basically a huge pile of rocks and a very costly part of the Dakar. Ten riders destroyed up to 60 wheels in 3 days! We were already using mousse at the time, so the riders just went right over all the rocky steps at full blast." But all the riders of the first year KTM team made it right to the end – "except me!" One year later Kinigadner went full throttle right from day one and won seven days in a row.  But he knew they couldn´t compete with the big teams: "We had just one mechanic and just enough spare parts that fit into six crates. We knew that wasn´t enough. And sure enough: I had to quit because of some little bitty thing."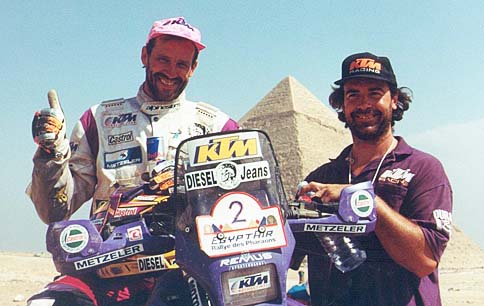 While the Dakar was still in Africa, you had to put a lot of material, effort and money into it to be able to win. There was no alternative route, so all the spare parts had to be transported on the race track. "The best shot was to have two mechanics in a fast car. They carried essential parts, maybe an extra engine. On top of that you needed a fast small truck for even more parts. Because the heavy supply trucks usually didn´t reach the bivouac until three or four in the morning. But the bikes had to be ready to start at 6 in the morning. So there wasn´t time for big repair jobs. Plus the mechanics had to get going too to reach the next bivouac." In this respect the new South American route ist much kinder to the mechanics. There are alternative routes and they are normal roads.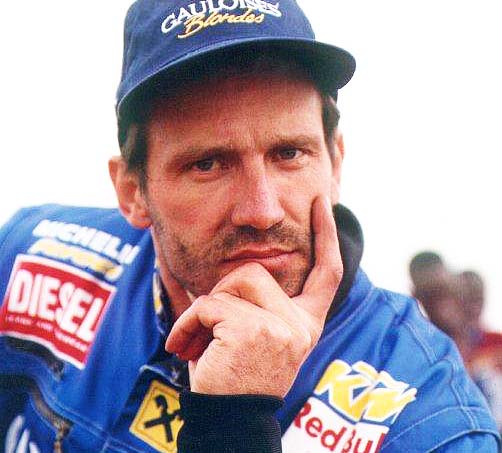 All Dakar riders share a spirit of cameraderie. "If someone is in trouble the others will stop for him. Sure, if you´re in the lead you will not sacrifice too much time for a technical snag. But even "favourite enemies" Marc Coma and Cyril Despres would stop for one another and ask what the deal is. There is no doubt about that."
Heinz Kinigadner competed in the Dakar seven times. In the year 2000 an incredible crash at 180 kmh put a sudden stop to this part of his racing career.
"I busted my thigh pretty badly. Psychologically, it was an unspectacular crash: I lost conciousness immediately. I could´t remember how it happened, and when I woke up in the helicopter, I was already in good hands." A year later in 2001, Fabrizio Meoni took the Dakar for the KTM team. This winning streak has lasted until 2011. To be continued… (c. panny, hubert lafer, constanze pandi)
STORY: "Very Positive From A Sporting Point Of View" – Heinz Kinigadner About The 'Dakar' In Saudi Arabia
STORY: "We must slow down the Dakar!" (and why that won't happen at Dakar 2019)
STORY: Kini & die Dakar (german version of this article)
LINK: Kini.at
LINK: KTM
LINK: Rallye Dakar
photos (c) Heinz Kinigadner archive