KTM Factory Racing's Daniel Sanders has delivered his best single stage performance of the 2021 Dakar Rally so far, placing an impressive third fastest on the high-speed special. Red Bull KTM Factory Racing's Sam Sunderland, Toby Price and Matthias Walkner all enjoyed solid rides, safely completing the stage without mishap.
Stage four of the 2021 Dakar Rally, the longest of the event at 813km, was billed as being less demanding on navigation than the previous few days. Comprising a 337km timed special, book-ended by long liaison sections, the route ultimately led competitors into Riyadh, the capital of the country. With the majority of the day consisting of fast, wide-open tracks across the desert, riders' focus and skill were tested to the maximum, with a safe stage finish a priority.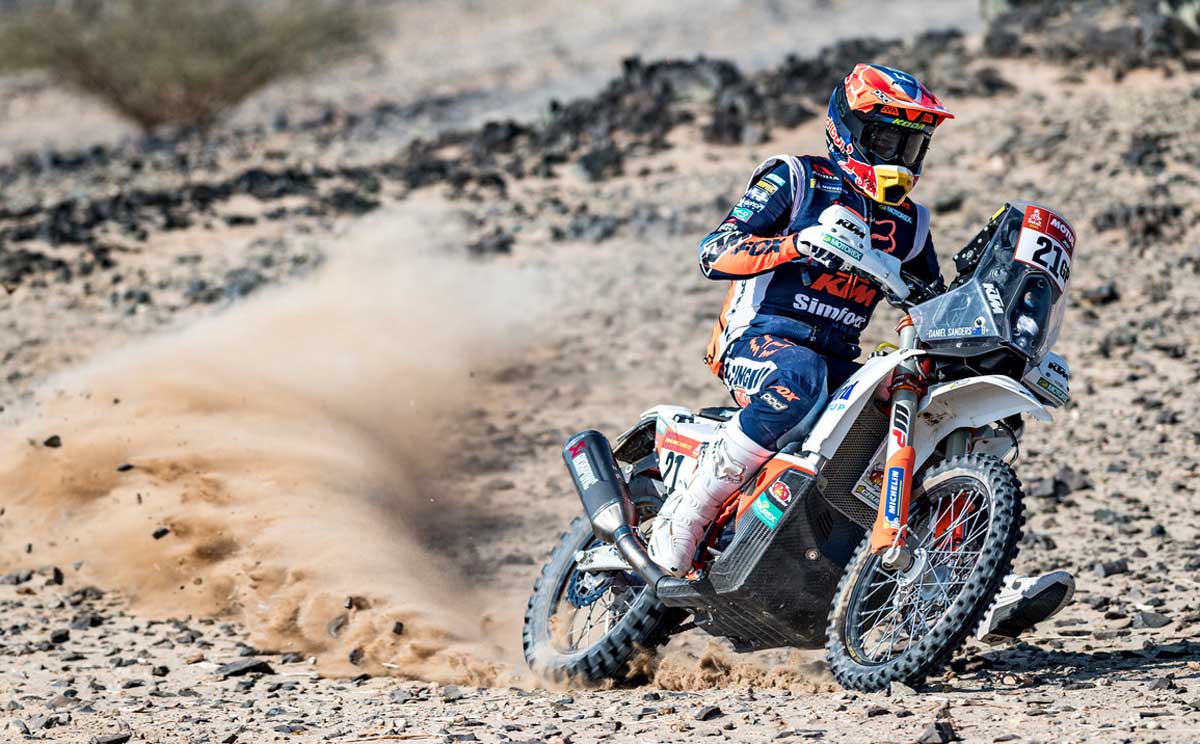 One rider who did push hard over the entirety of the special was KTM Factory Racing's junior rider, Daniel Sanders. The 26-year-old rally rookie was the eighth rider to enter the stage following his strong performance on day three. Finding the high average speed special much to his liking, and feeling comfortable on his KTM 450 RALLY, Sanders was able to successfully chase down his rivals ahead and make up good time. With four strong stage results under his belt, in what is his debut Dakar Rally outing, Daniel goes into Thursday's stage five provisionally lying 14th overall and as top rookie.
Daniel Sanders: "Today went really well, I didn't have any issues for the first 100km or so and was able to close in on the front pack of riders. I had a strong middle section, I just kept pushing and was able to correct a couple of mistakes that the guys out front made, so that put me up on time a little. When we hit the dunes, I did have one big crash and got stuck on one too, luckily both myself and the bike came out fine. Towards the end I was able to push on again and apart from one little mistake things went really well. I'm really happy with third and thankfully it means I don't have to lead out tomorrow either." (source: ktm)
STORY: Daniel Sanders Joins GasGas Factory Racing (June 2021)
STORY: Laia Sanz Safely Through Brutal Dakar-Stage Five (January 2021)
STORY: Toby Price Secures Stage Three Dakar Rally Win (January 2021)
photos (c) Rally Zone