Toby Price has set his sights on emulating Stéphane Peterhansel and Cyril Despres by winning the Dakar Rally on four wheels as well as two. As the Australian lines up for the Atacama Rally on Monday, it is his first motorcycle event since breaking his wrist on this year's Dakar, as well as marking a return for two-wheel rival Matthias Walkner after his own three surgeries. Ahead of their rally raid return, the pair spoke about their respective injuries and the painful journey back to competition.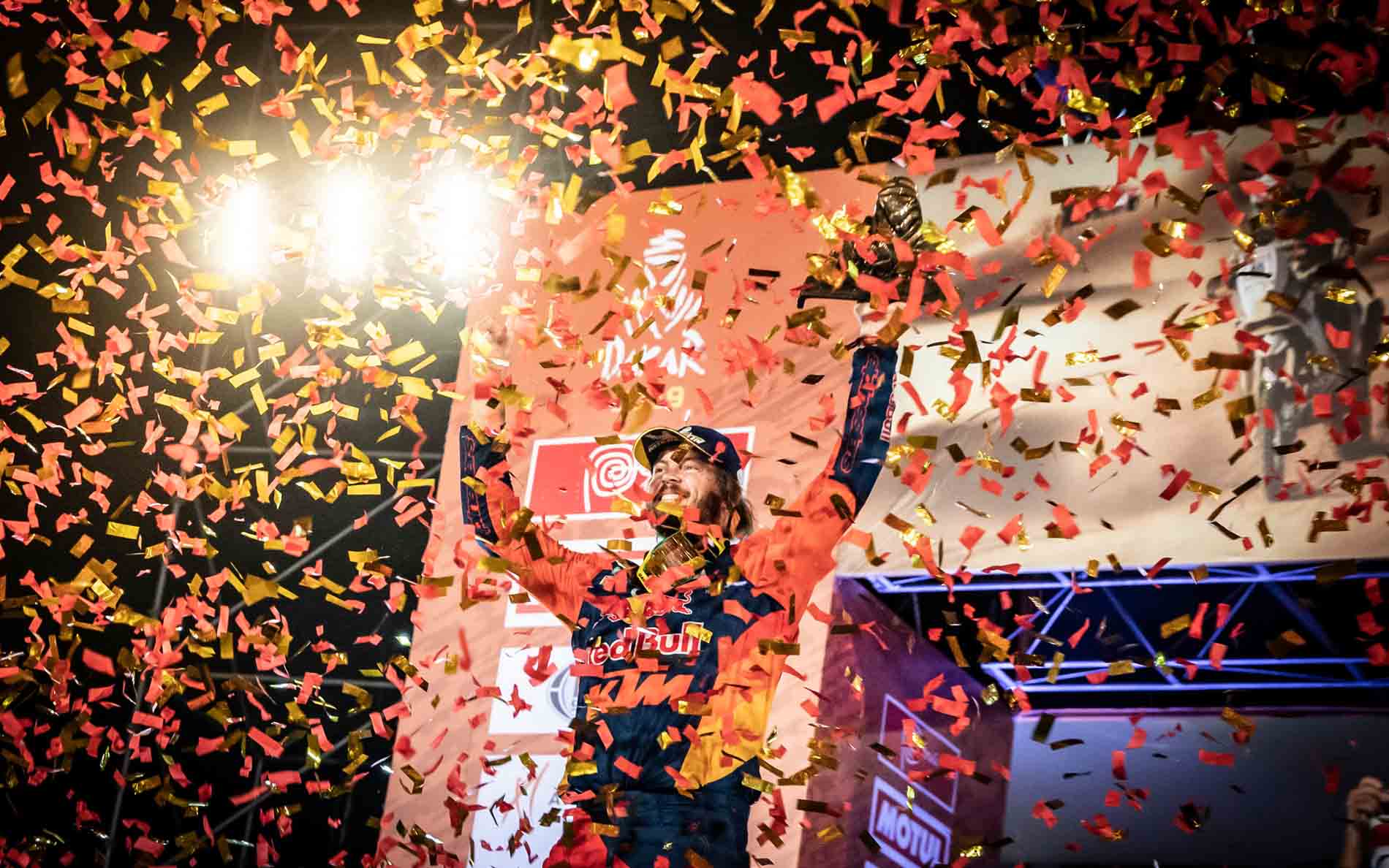 Interview with Toby Price
The wrist injury was brutal, is it back in full working order?
Toby Price: "Yeah, the wrist injury was pretty brutal. I definitely did some good damage to it. We've had it all fixed up now and we're looking forward to getting back in to the races. It's working as best as we can now. Everyone knows what a scaphoid is like, it's an interesting bone to break and it takes a long time to sort out so it's been a little bit frustrating along the way but we should be good by the time we get on the bike."
How are you feeling ahead of the Atacama Rally?
Toby Price: "For me, coming into the rally I'm really excited to be back on the bike and start racing. I've been away from rally racing for a bit with the wrist injury. It's going to be a good race to be back at. I'm not expecting anything from it but we're keen to get back out there and get going."
Do you feel like your experiences driving four wheels can help you on two?
Toby Price: "For sure, the four-wheel racing helps in some way even though it's a different discipline and it doesn't look the same. It keeps my reflexes sharp and my racecraft pretty handy I think. It's always good being out doing the high rates of speed and having fun and trying to get the wrist have low impact but put it under some strain and stresses you wouldn't want to do in training sessions so it's been good."
Do you want to follow in the footsteps of the likes of Stéphane Peterhansel and Cyril Despres and race the Dakar on four wheels one day?
Toby Price: "They pretty much feel exactly the same (two wheels to four) except you have the roll cage around you. So, that's 100% the goal to follow in the footsteps of Peterhansel and Despres, and get out there on four wheels and race the Dakar in the years to come. I've still got some unfinished business to do on two wheels. I definitely want to win one or two more on two wheels but we just don't know how the body will be in five to eight years time, which is about the time I'd look to make the switch to four wheels hopefully. Yeah, that's definitely the ultimate goal to try to chase that down."
How impressed have you been with Nasser Al-Attiyah's 2019 rally raid season, winning every race he's entered?
Toby Price: "I'm step super impressed with Nasser this year. Every race he's entered he's won. He's basically been doing a race every month and pretty much being dominating. He's an amazing guy and knows how to be a wheel man and get the job done. It's crazy to see but massive big props to him and his whole team. He's on the move and he's going to be one to beat in 2020 in Saudi Arabia."
Interview with Matthias Walkner
How has the rehab and training gone? Are you fully recovered?
Matthias Walkner: "It was a really long wait after six months I was ready to jump back on the bike. The knee surgery went pretty well but the ankle I destroyed quite a lot. It was not the best and it's still a bit painful but I really tried the last 24 weeks to do the best but it's getting back from month to month and hopefully in January at the Dakar the pain is gone. But I just try the best and I'm really happy to be back on the bike."
Are you nervous about racing again back on the bike after such a long time out?
Matthias Walkner: "No, because this is the thing that I most like to do in my life so I'm just happy to be back on the bike and I try the best. There's no pressure at all. It's about doing nothing crazy and finish the race."
What do you expect from the Atacama Rally?
Matthias Walkner: "I expect a really nice rally as always. We always have really cool stages and the Atacama Desert is also cool. I hope I can see again the violet flowers in the desert what we are lucky to see all these years."
Will you prepare any differently for Dakar 2020?
Matthias Walkner: "Normaly not but, if I still have pain in my ankle, I will strap that quite hard and try to fix it so I have less movements in the boots. The last years shows more or less that I'm working in a good way and direction so not big changes." (source: red bull content pool)
STORY: Matthias Walkner Finishes As Runner-Up At 2021 Rally Kazakhstan (June 2021)
STORY: Toby Price Tops The Timesheets On Stage Four Of The Atacama Rally
STORY: Pablo Quintanilla Fastest On Stage One Of 2019 Atacama Rally
STORY: Andrew Short & Pablo Quintanilla Set To Race 2019 Atacama Rally
STORY: Toby Price And KTM Win Dakar 2019
photos (c) Marcelo Maragni & Brett Hemmings & Philipp Schuster/Red Bull Content Pool & Marcin Kin