As the competitors lined up at the start in Orlat for Offroad Day 2, they were faced with between 97-110 km of tracks. Even at sunrise you could already tell it was going to be another perfect fall day which has to be the best news any competitor at the Red Bull Romaniacs can have.
Lettenbichler setzt sich an die Spitze der "Red Bull Romaniacs"
At 07:45 Graham Jarvis, ranking first after Offroad Day 1, was on fire as he sped off the start. He was followed by Mani Lettenbichler and Billy Bolt. Letti set off like a bat out of hell after Jarvis, determined to make up the time difference between the two in order to defend his title from last year. After the first 45 minutes, he was almost 2 minutes ahead of Jarvis. The battle for the victory appeared to be between the two. Mani reached the service point 50 seconds behind Jarvis. At the next checkpoint after that, he had caught up with him and from there they rode back and forth with each other to the finish.
Meanwhile Wade Young, Billy Bolt and Alfredo Gomez also had a good start to the day and were fast approaching the leaders when problems started to arise. Billy Bolt fell and tumbled down a steep, rocky section all the way to the bottom and lost precious time climbing back up. Taddy Blazusiak was less fortunate today and experienced severe shoulder pain and decided at the service point that he was unable to continue.
Gomez caught up with Young and they rode together until the last part of the day when Wade pushed himself to the maximum on a flatter section while Gomez chose to be more cautious and avoid injury, this cost him his position with the leaders of the pack.
Although Jarvis crossed the finish line in front of Mani, he actually fell into 2nd place overall, with 2 minutes, 18 seconds behind the leader and Wade Young managed to make up enough time to place third overall, 5 minutes, 13 seconds behind Mani.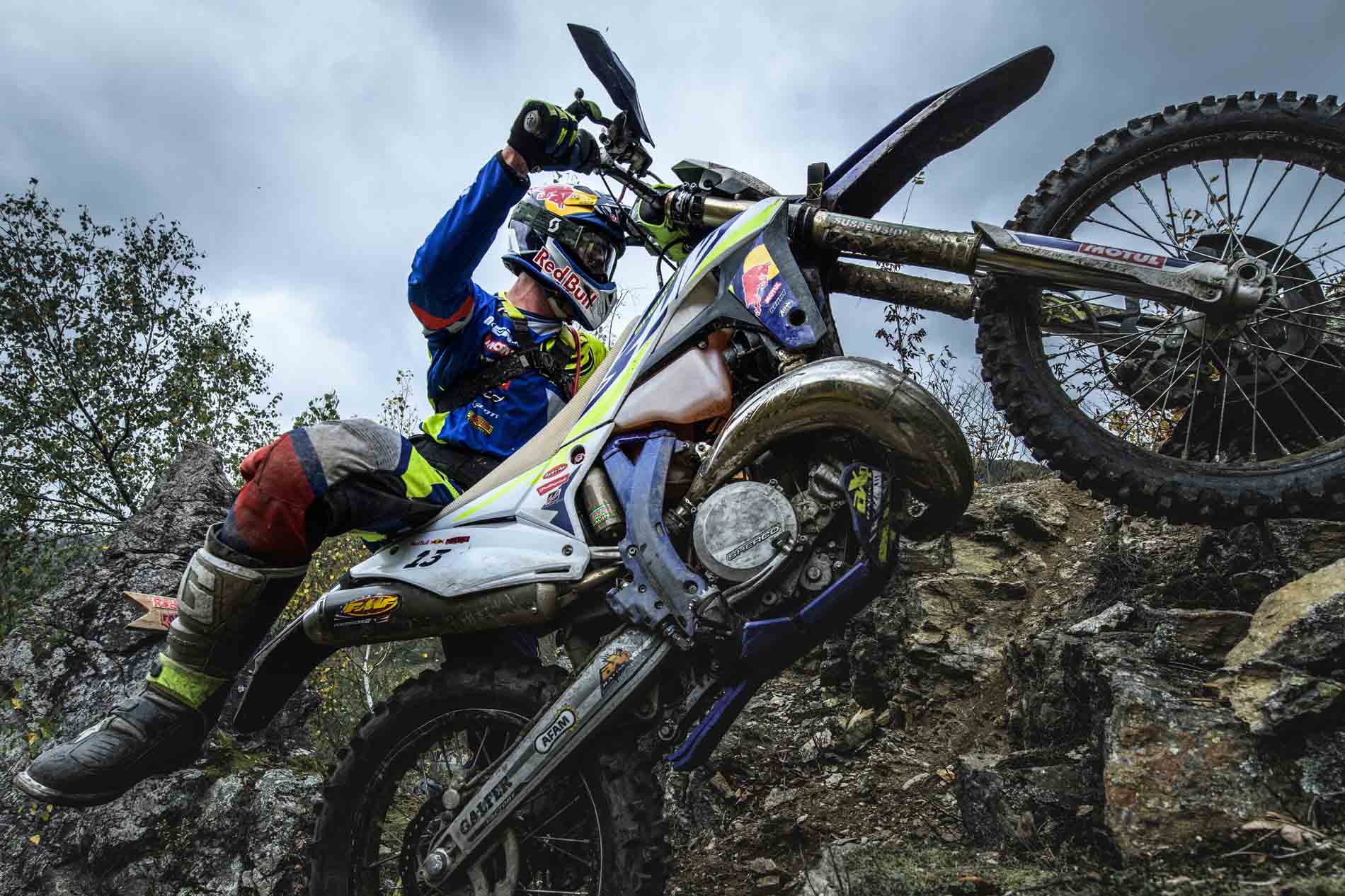 With Offroad Day 2 over, Alfredo Gomez and Billy Bolt still have a chance at gaining a position on the podium, for Mario Roman, it will be a lot harder with an almost 40 minute gap away from the leader, which will prove difficult to recover from in the two remaining days of the competition.
STORY: Big Day For Graham Jarvis Who Has Now Title No. 7 In Reach (October 2020)
STORY: Graham Jarvis wins Offroad Day 1 of the 2020 Red Bull Romaniacs (October 2020)
photos (c) Mihai Stetcu/Red Bull Content Pool