Few days after he clinched his third World SuperEnduro crown, Colton Haaker talks about the differences between 2018 and 2019 and the wild last round in Bilbao…
First of all Colton, congratulations for your title! Did you get time to celebrate it?
Colton Haaker: "Thank you. I had a 6 am flight and got home to my family within 24 hours of the race and that was enough to celebrate about!"
Last year was definitely one to forget for you, what has changed in your preparation or in your approach?
Colton Haaker: "The biggest difference between the two last seasons was coming into the 2018 season fighting injury so I couldn't train and get fit before the start of the season. Then in 2019 I was 100% healthy."
Did you change also something in your strategy during the races?
Colton Haaker: "There was no big changes in my race strategy but I knew that every moto was going to count and I did my best to be consistent all year."
Taking a look back to Round 3 in Madrid, can you tell us what happened exactly with Taddy in the finish of Moto 2?
Colton Haaker: "Really it was just a racing incident we raced to the finish but we came together and because of a lapped rider in front of us we slammed on the brakes and crazy we bounced off one another and went flying!"
With three riders on the same level: you, Taddy Blazusiak and Cody Webb… What was the key point this year?
Colton Haaker: "For sure consistency was key. Knowing when you really needed to win and sometime when you needed to just have a top 3 result."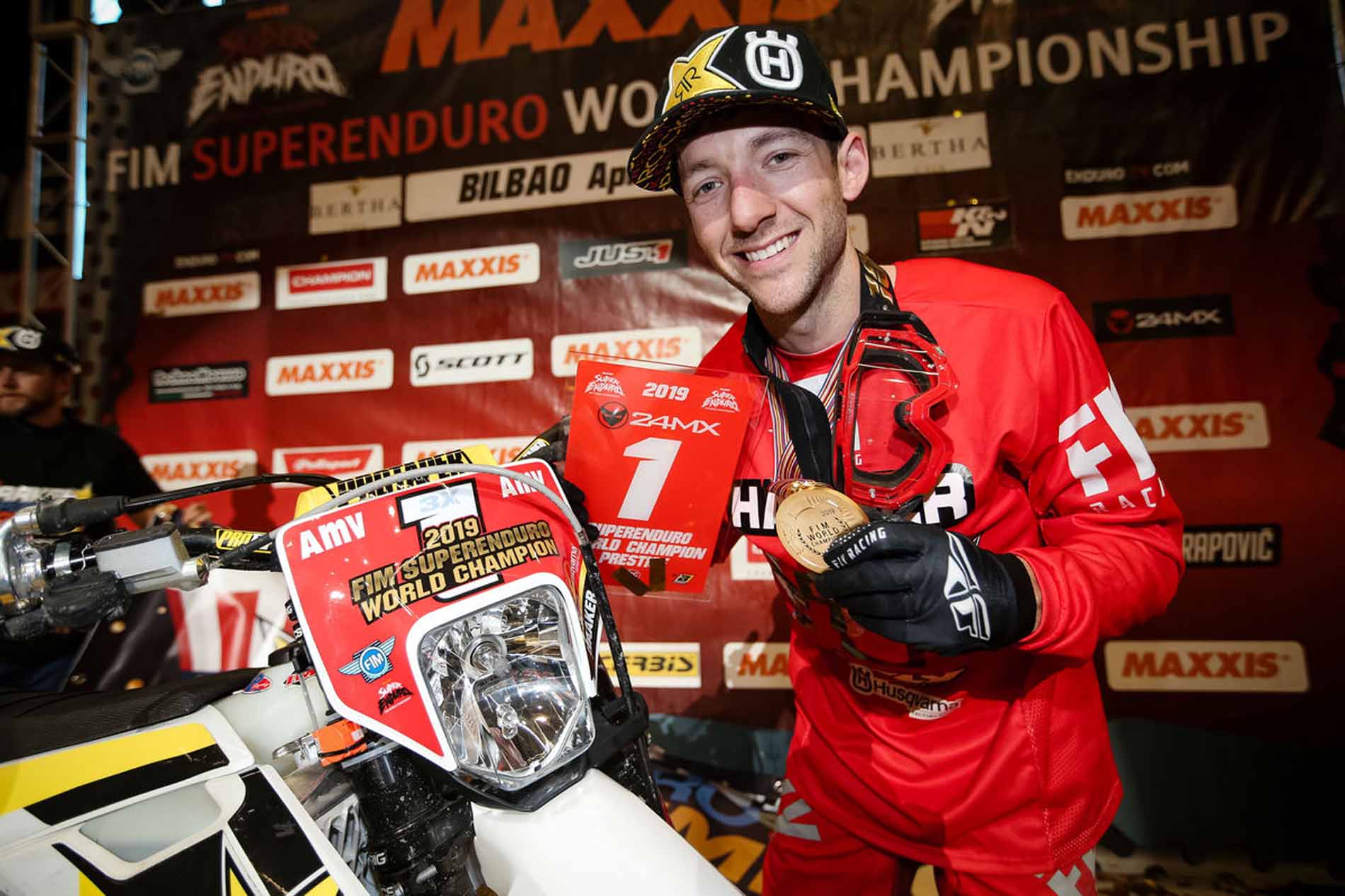 Let's talk about the very last lap of the very last moto of the season. It seemed to be a true nightmare for you, crashing and fighting with the track but it ends well with your third SuperEnduro crown…
Colton Haaker: "Yeah, the last lap was pretty embarrassing really. My arms were so pumped up that I couldn't work the controls or barely hang on. I crashed maybe twice, I think stalled it and caught neutral on another obstacle. After that I pretty much lost my mind went full send to catch the riders in front of me and then preceded to crash over the finish line on to the concrete. I thought I had lost the title, I didn't even recognize the riders that I had passed, getting up from the crash my teammate ran over grabbed me saying, "you did it, you won." Not sure if it was shock of what I just heard, the adrenaline, hitting my head on the concrete or what, but I fainted… Crazy ending to the season. Just wild."
What's next for you now? Will we see you in 2020?
Colton Haaker: "Next for me is the Endurocross series starting in July. And I hope to be back in 2020. I really enjoy this championship I think it is incredible with some of the most talented riders in the world of racing." (source: super-enduro)
STORY: Billy Bolt Claims SuperEnduro Victory In Poland
STORY: Blazusiak And Walker Ready To Race 2020 Superenduro Series Round One
STORY: Rockstar Energy Husqvarna Factory Racing Extend Contract With Colton Haaker
STORY: Colton Haaker Crowned SuperEnduro World Champion
photos (c) Future7Media & Jacky Ley & David Reygondeau