Reigning champion Toby Price has won the opening stage of the 2020 Dakar Rally. Red Bull KTM Factory Racing teammates Matthias Walkner and Sam Sunderland followed Price home in third and fifth places respectively, with Luciano Benavides putting in an impressive ride, opening much of the stage to finish eighth.
The opening day of the 2020 Dakar Rally presented riders with a huge challenge right from the start. Comprising 433 kilometres of liaison and a 319-kilometre timed special, the gruelling route led competitors north from Jeddah along the Red Sea coast to Al Wajh. With a mixture of fast, rocky pistes and soft sand dunes, the first day of racing in Saudi Arabia gave the riders a taste of what is to come in this new chapter of the Dakar.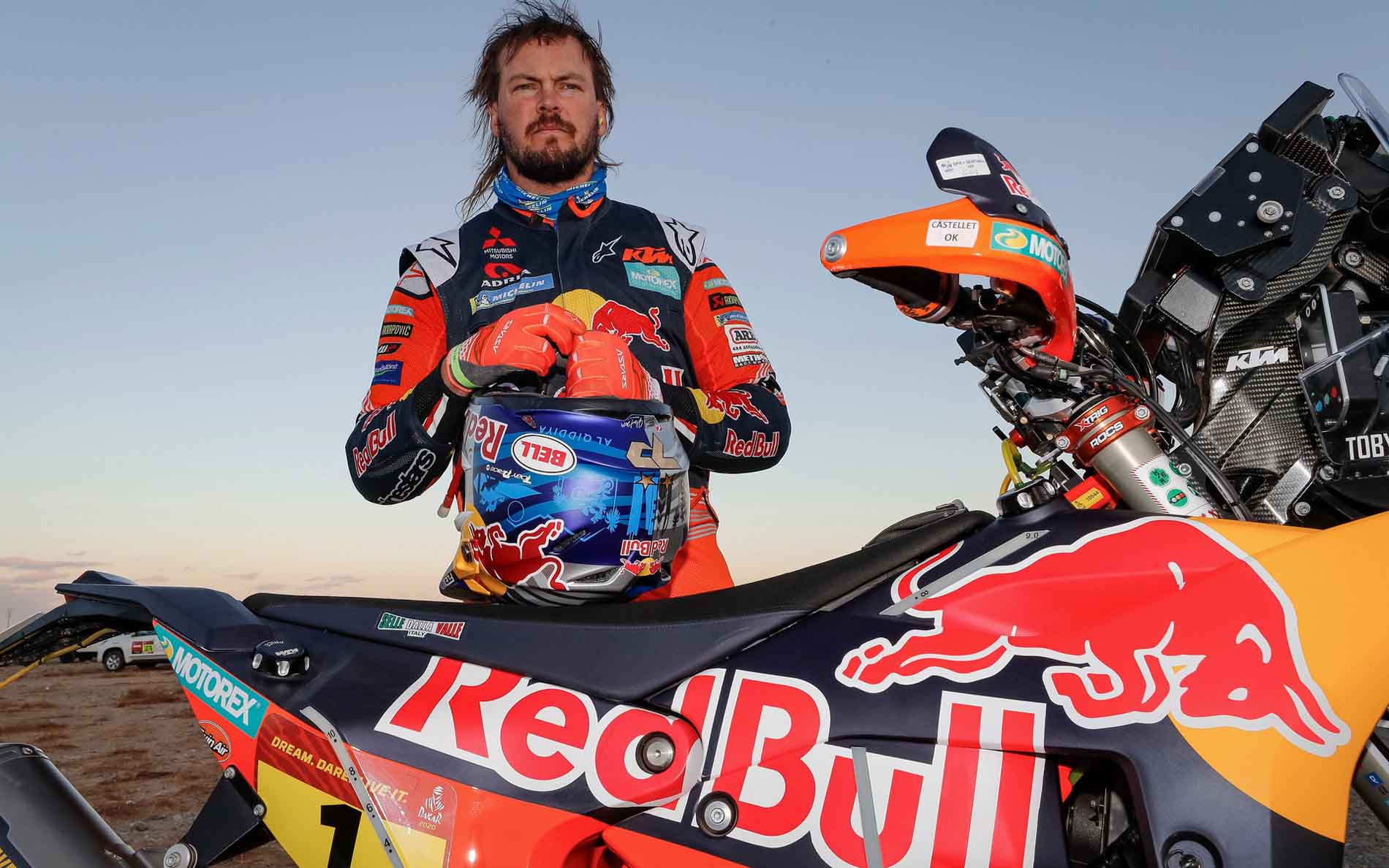 Carrying the number one plate, reigning champion Toby Price had the advantageous position of being the 23rd rider to enter the day's stage. The Aussie star immediately pushed hard from the start, posting the second fastest time to the first waypoint. A small issue with his navigation equipment looked set to reduce Toby's pace with a seized road book making navigation difficult. Thankfully he was able to tag on to the back of teammate Walkner and the pair brought their KTM 450 RALLY machines home safely and in good time, with Price fastest overall.
Toby Price: "I had a really good day today up until about 140 kilometres where my road book started to play up a bit. Something had got in there and jammed the rollers and so I was left without a road book for a while. Luckily, I caught Matthias after he lost a little time and I was able to stay with him towards the finish. My result looks good on paper, but it turned out to be quite a tricky day. I'm also opening the stage tomorrow, so hopefully that'll go well, too."
2018 champion Matthias Walkner also made a great start to his 2020 Dakar campaign, safely completing the long stage in third place. After dropping down to fifth midway through the timed special, Walkner was able to regroup and push on toward the finish to ultimately clock in just two minutes and 40 seconds behind teammate Price.
Matthias Walkner: "It took me a while to get used to things today, maybe because so many things are different here in terms of the terrain and navigation. For the first 80 kilometres I took things quite steady, it was quite stony and easy to make a mistake. After that I found my rhythm, especially in the dunes, and was able to make up some time. I was quite surprised with third position although it doesn't give me the best start for tomorrow, but I'm happy and we've got a long way to go."
Stage two of the 2020 Dakar Rally, the shortest of the event, Leaves Al Wajh and heads north to Neom. Covering a total distance of 393 kilometres, the stage includes a short 26-kilometre liaison and a timed special of 367 kilometres. The day marks the first half of the event's 'Super Marathon' stage – riders will only have 10 minutes to work on their bikes at the bivouac after the day's racing.
Provisional Results Stage One – 2020 Dakar Rally
1. Toby Price (AUS), KTM, 3:19:33
2. Ricky Brabec (USA), Honda, 3:21:38 +2:05
3. Matthias Walkner (AUT), KTM, 3:22:13 +2:40
4. Kevin Benavides (ARG), Honda, 3:24:04 +4:31
5. Sam Sunderland (GBR), KTM, 3:24:48 +5:15
STORY: Sunderland Takes Overall Rally Lead With Runner-Up Finish On Dakar Stage Two
STORY: GasGas And Laia Sanz Set For 2020 Dakar Rally
STORY: Red Bull KTM Complete Shakedown Tests Ahead Of 2020 Dakar Rally
STORY: "In rally everything can change. But what really matters is who crosses the line first." – Ricky Brabec
photos (c) Rally Zone