Red Bull KTM Factory Racing's Nathan Watson has claimed a hard-fought victory at round five of the Championnat de France des Sables. Putting in a dramatic come-from-behind ride, the KTM rider secured the top step of the podium on the final lap of the two-hour 30-minute beach race to record his third win of the series. Ensuring a successful outing for the team, Watson's teammates Camille Chapeliere and Jeremy Hauquier placed sixth and 12th respectively.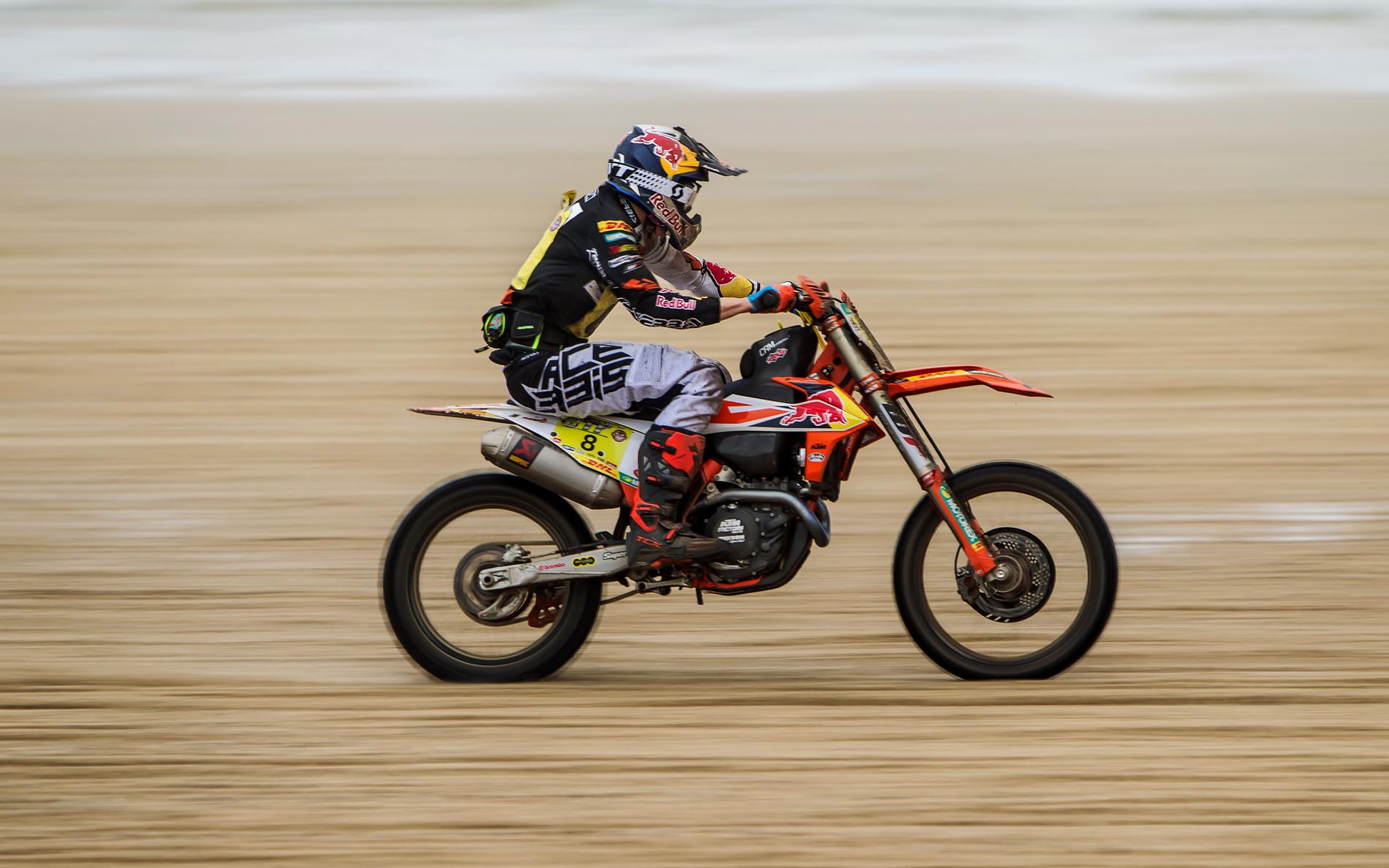 With the Christmas break complete, the fifth stop of the French beach race series took competitors to Grayan-Et-L'Hôpital, north of Bordeaux. A demanding 14-kilometre long course awaited the riders, which combined with mixed, wintery weather ensured a physical and challenging day for all.
Highly-motivated following his victory at round four, Watson arrived to Grayan-Et-L'Hôpital with only thoughts of winning on his mind. After a slightly cautious start to his race, the British rider soon settled into things and began to push the pace as the course roughened. With an impressively fast rhythm, he steadily worked his way up to the front of the field and into the race lead.
However, provisional leader Yentel Martens didn't want to give up without a fight and for the second half of the race the duo went head-to-head for victory. Finding the extra energy needed, Watson upped his pace aboard his KTM 450 SX-F during the closing stages of the event, overtaking Martens on the final lap to clinch a memorable race win.
Nathan Watson: "I'm really happy with that, I couldn't ask for a better race. To finish on the top step of the podium again, for the third time in the championship, is awesome. The opening lap was fast, much faster than I expected it to be. I didn't want to make mistakes and lose more places than I could gain, so I remained calm and let things settle. Then I began building my rhythm and made some really good passes to reach the front of the field. When I passed Yentel for the lead he stepped up his pace too and we were fighting hard until the end. It was a great battle – one I enjoyed a lot – so to end up on the top step of the podium feels amazing after such a great race. With another win it means my championship hopes are growing despite having missed round two. Now, with just Enduropale Le Touquet remaining, I'm just going there chasing victory because that's a race I really want to win. If I can do that then we'll keep our fingers crossed to see what happens regards the championship."
Yentel Martens: "That was a really nice race. Although I didn't manage to get the victory, as a racer it's hard to be disappointed in a performance like that. Nathan and myself were battling all the time and we were pushing the pace a lot. He just had that little bit extra on me during the final lap, but I can't complain because I gave it everything I had. I must give a big thank you to my team, they were awesome too. The bike was wonderful and our pitstops were very slick and fast. With two weeks to go until le Touquet the race is now beginning to build on our minds. Today I showed that I can go there and be a contender for the top step of the podium. Everything is working so well and there is a good feeling inside the team that we can deliver something special there."
Results – Championnat de France des Sables, Round 5
1. Nathan Watson (KTM) 12 laps 2:30:07.650
2. Yentel Martens (Husqvarna) 2:30:51.180
3. Milko Potisek (Yamaha) 2:32:38.110
4. Jeffrey Dewulf (KTM) 2:34:25.190
5. Jeremy Van Horebeek (Honda) 2:34:55.910
STORY: Nathan Watson French Beach Race Champion With Enduropale Du Touquet Victory
STORY: Nathan Watson Claims Second Victory In French Beach Race Series
photos (c) Haudiquert P.