Rockstar Energy Husqvarna Factory Racing's Billy Bolt claimed a hat-trick of victories at round three of the FIM SuperEnduro World Championship in La Coruna, Spain. Also topping the Superpole hot lap, Bolt secured a maximum points haul to return to the top of the championship standings with two rounds remaining. Disappointed with his performance last time out in Germany, Bolt arrived in Spain eager to make amends and deliver a redeeming result. On what was an increasingly slippery and technical course, the Brit looked in command as he rode his Husqvarna FE 350 to victory.
Beginning his night with a blisteringly fast Superpole lap, Billy topped the classification by almost two seconds. Carrying that momentum into the first of the night's three races, the Brit quickly hit the front of the field on lap two and was never headed. Controlling the race throughout, Bolt claimed the win with a confidence-boosting 11-second margin of victory.
Burn-out of the evening for the triple winner and the winner of the 2020 Spanish GP Billy Bolt Racing scored 63 points out of 63. He takes back the lead of the championship ! #SuperEnduro20 #GobigorGoHome #SpanishGP #LaCorunã

Gepostet von FIM SuperEnduro World Championship am Samstag, 18. Januar 2020
Starting from the back of the grid in the reversed start order race two, Billy again worked his way into the lead on lap two. Despite a couple of mistakes in heavy traffic, he kept his cool to take the win. With a clean sweep up for grabs, Bolt duly delivered in the third and final race of the night. After an early battle with rival Jonny Walker, Bolt took the lead on lap four. Racing clear and opening up a sizeable 32-second advantage he took the win, comfortably claiming the top step of the podium and with it the championship leader's red plate.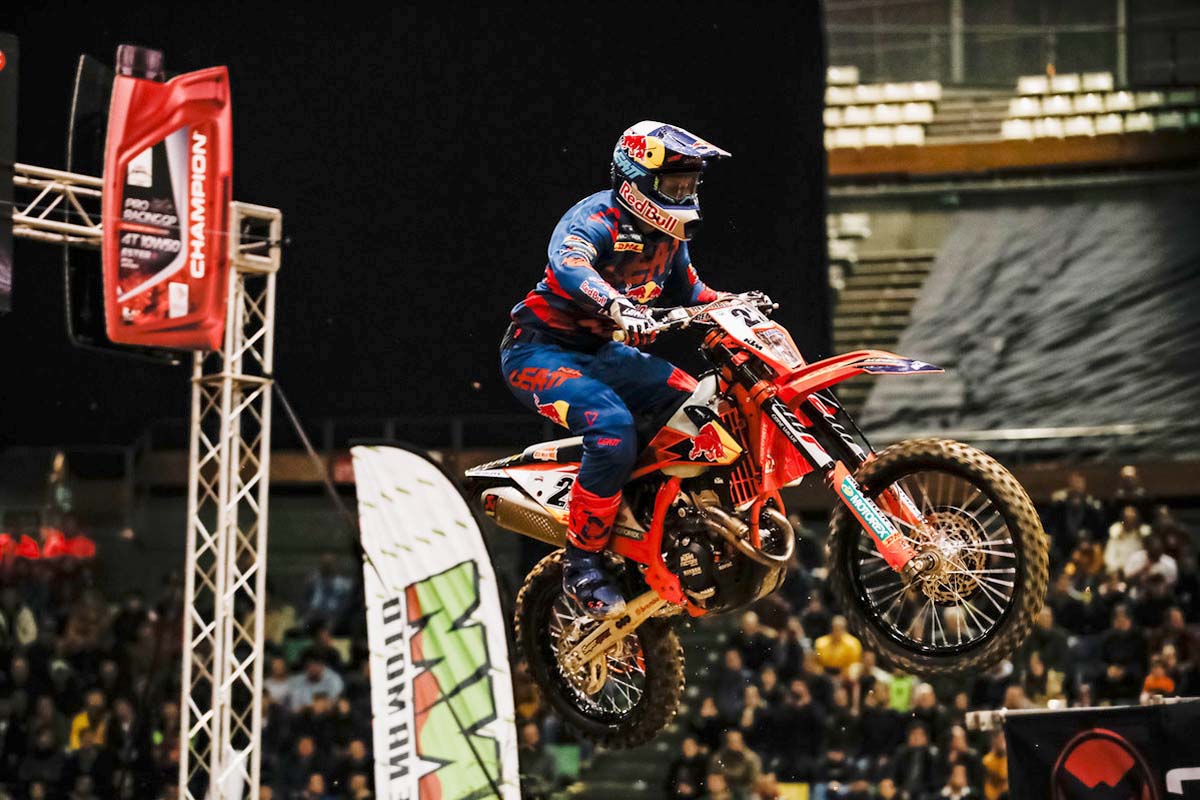 Billy Bolt: "I'm made up by just how well tonight has gone. It's the first time I've won all three races and taken the Superpole, so all in it's gone about as perfect as it could have done. After my performance in Germany I wanted to come here and redeem myself. But to be honest, when I walked the course I didn't expect it to suit me so well. However, as the night progressed I adapted to the changing terrain and conditions. You needed to muscle the bike around in places, but at the same time be calm and patient. I did my best to avoid mistakes and take the opportunities when they came to me. It worked, especially with race three – that felt perfect. Of course there's still a long way to go in the championship, we're far from over, but to take maximum points and get the leader's red plate back is fantastic."
Jonny Walker: "It's been another good night and I feel like I'm showing that I'm making steps forward with each round. I'm delighted with second and another visit to the podium. On a tricky course I managed to get good starts and that made a big difference. I wasn't always the fastest on the track, but I was consistently hitting my lines every lap, which was making things count. Looking at my results as a whole, I've improved each time. Fourth in Poland, third in Germany and now second tonight, that gives me a lot of confidence heading into the next round."
Taddy Blazusiak: "The track was the real decider tonight. It either worked for you or it tripped you up. Unfortunately, for the majority of the time it got the better of me. I felt like after practice I had it figured out and in race one I managed to get it right. You needed to let it come to you – in a way ride slow to go faster. In race two things sort of came undone and I made too many strange mistakes. It was the same in race three, too. But I'm experienced enough not to dwell on it. There's a lot of racing left to go in this championship and I'm looking forward to returning to the stadium in Budapest where I know I can show what I'm capable of."
Championship Standings (After round 3 of 5)
1. Billy Bolt (GBR), Husqvarna, 169pts
2. Taddy Blazusiak (POL), KTM, 163pts
3. Jonny Walker (GBR), KTM, 136pts
4. Alfredo Gomez (ESP), Husqvarna, 126pts
5. Blake Gutzeit (RSA), Husqvarna, 78pts
STORY: Billy Bolt On Winning Form At Super-Enduro Round Four
STORY: Blazusiak Takes Superenduro Championship Lead With Dominant Win In Germany
photos (c) Future7Media