MXGP returned to the compact and hillside circuit in Faenza in eastern Italy for the first time since 2012 and for the first of three events in one week at the venue. The Grand Prix of Italy was also the opening race of six in the country in September. The narrow and hard-packed layout featured a lap-time of almost two minutes and emphasized the importance of good starts. Red Bull KTM Factory Racing parked in the Monte Coralli paddock for the week while holding red plates as respective leaders of the MXGP and MX2 classes.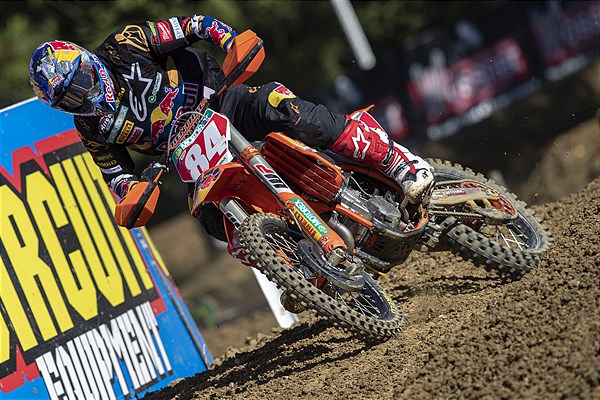 Jeffrey Herlings – The Dutchman set his second Pole Position of the season in Timed Practice. During the opening race he moved up from a top five start to pursue and then pass teammate Jorge Prado for first place. Herlings led the last five laps to the flag to notch his 172nd career moto win and the fifth of 2020. At the second attempt he again had to overtake Prado and then resist a determined charge from Jeremy Seewer in the final three laps. Herlings' prevailed to post his first 1-1 of the year and the 90th since his first GP term in 2010, taking him level with teammate Tony Cairoli in 2nd spot on the all-time list. He now has a 60-point advantage over Cairoli in the MXGP championship standings.
Tony Cairoli – The nine-times world champion won the previous premier class Grand Prix at Monte Coralli in 2012. He started strongly in the first moto and was part of a leading quartet that featured his two teammates. Cairoli could not match Seewer's run for 2nd place but finished 3rd and just over a second behind the Swiss. In the second race he was again at the front and sealed a 3-3 scorecard for his third trophy of the season, moving ahead of Tim Gajser in the championship.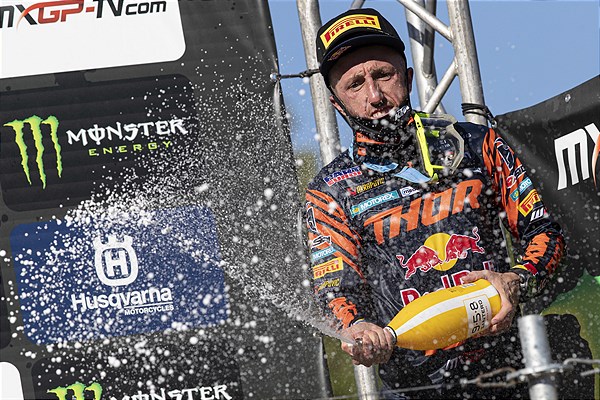 Jorge Prado – The double MX2 World Champion set the pace during the first MXGP moto but was soon reeled-in by teammates Herlings and Tony Cairoli. Prado kept close to Herlings until the last lap but then made a mistake and dropped down to 4th. The Spaniard produced a similar story in the second moto: leading a total of 24 of the 34 laps in Faenza. He crossed the line in 6th for 5th place overall. The premier class rookie is 8th in the MXGP points table.
Jeffrey Herlings: "I felt good all day. The speed of the top ten is unbelievably fast. Everybody is so close to each other and the starts really were key. It was hard to pass Jorge because he was riding defensive lines. I got the opportunity in both motos when he started to get a bit tired. It will be an exciting week, I think. The track could still get rougher to give more opportunities to pass but they did good with the watering and it was safe, which is the most important thing. I'm looking forward to Wednesday."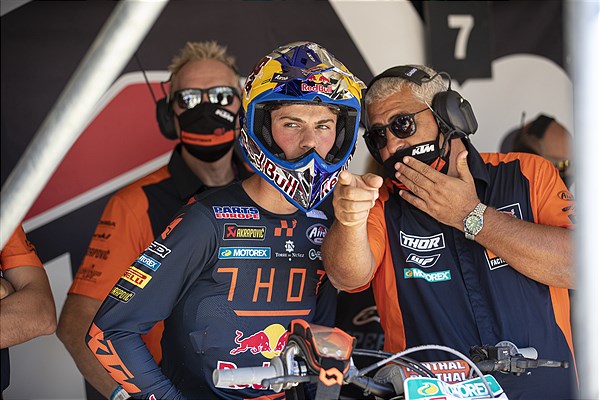 Tony Cairoli: "I re-grouped from 8th place in the first moto and I saw Jorge and Jeffrey at the front. The pace was fast but I could come closer and Jeremy [Seewer] was also very fast today. I gained a position when Jorge crashed at the end. My start was better in the second moto and I was in 4th even though I made a big mistake on the first lap and nearly went down. That cost me. I had to recover and keep safe because the track was getting a bit harder. I could find some more speed. I tried to attack in the last laps but, overall, I'm happy with 3rd because this kind of track is not really one of my favourites. We have to do another two races here so I hope to improve."
Jorge Prado: "I'm pretty happy with my riding. I had a little dip in the first moto and Jeffrey used that to pass me. Seewer and Tony were then attacking very hard but I kept with Jeffrey until the last lap. I entered a rut and when I was able to open the gas the rut fell-in and it popped my front wheel out of place. I crashed because of that. It was a case of bad luck. In the second moto I started well and was riding well until the end when Jeffrey came through again. I made some mistakes and lost some focus. Fifth overall is decent but I'm aiming for more. After being the guy who led most laps today it is a pity not to be on the box, but we will get there. I'm feeling good."
STORY: Herlings Opts For Corrective Foot Surgery And To Sit-Out The Rest Of 2020 MXGP (October 2020)
STORY: Red Bull KTM End Mantova Triple Header With Cairoli And Vialle On The Podium (October 2020)
STORY: Herlings & Hofer Complete Last Prep Race Before Resumption Of 2020 MXGP (August 2020)
STORY: Jeffrey Herlings & Tom Vialle Celebrate Victory At Wet Dutch Grand Prix (March 2020)
photos (c) KTM Images/Ray Archer