Rockstar Energy Husqvarna Factory Racing's Billy Bolt, Graham Jarvis and Alfredo Gomez are all-set for the start of the 2019 World Enduro Super Series, which begins on May 10 with the Extreme XL Lagares in Portugal.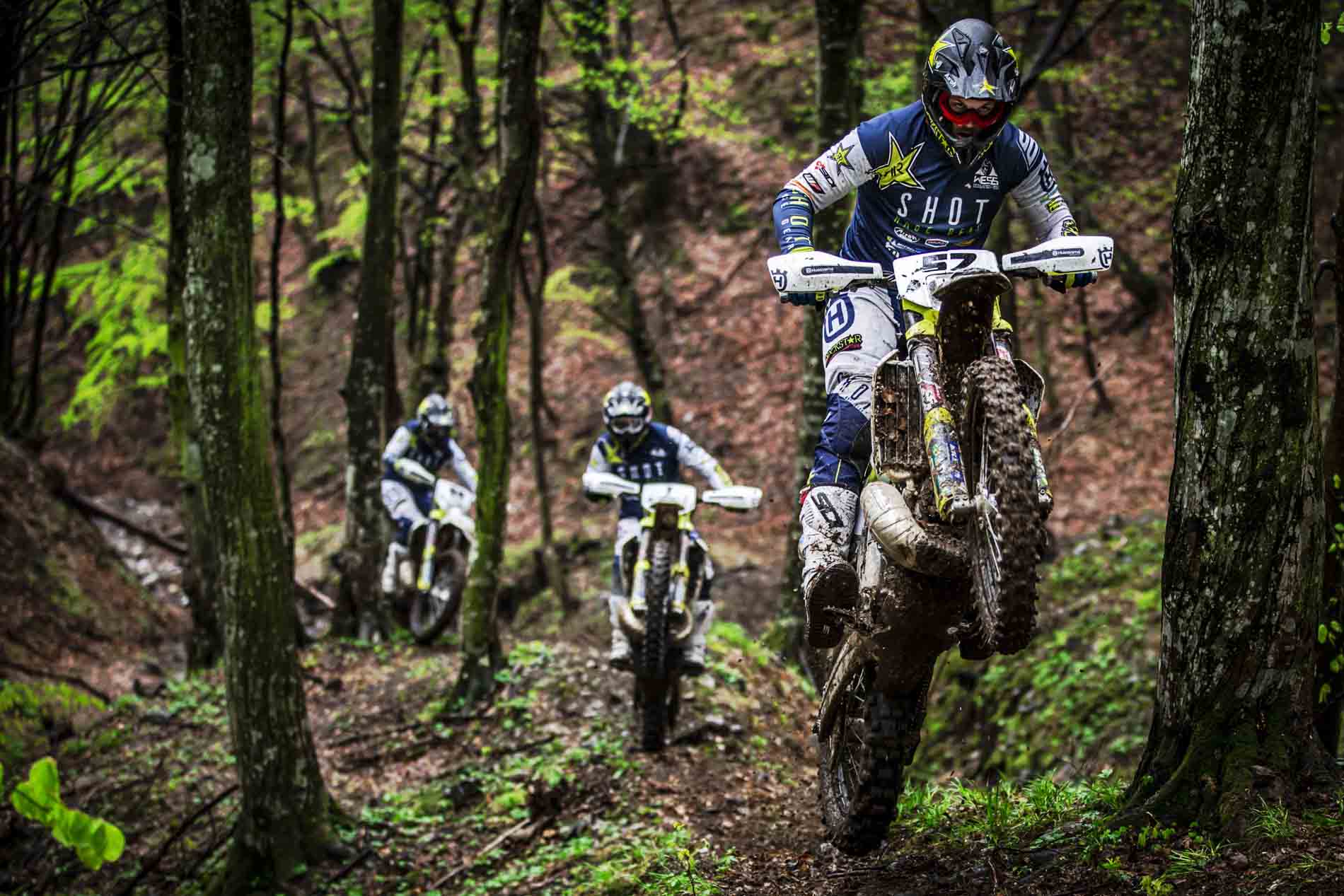 Leading the team into action at the first of the eight-round series is defending WESS champion Billy Bolt. Securing the coveted title last season, the British youngster delivered skill, determination, speed and the ability to adapt to the mixed discipline championship. For 2019 Bolt starts the defence of his World Enduro Super Series title following an injury-forced lay-off. Working hard to return to fitness, Bolt is focused on defending his title and doing all he can to take his Rockstar Energy Husqvarna Factory machine to the top of the podium.
Billy Bolt: "Despite everything I've been through since winning the 2018 WESS title I can't wait to get started with this year's championship. Obviously, winning the title last year was amazing. I learned so much, had some great races and the whole team did a fantastic job. I really hope we can do the same this year. I'm certainly not coming into the new series at 100%, but it is what it is, and I know that once I'm through the first three races I'll have a little time to take stock and push harder for the rest of the events. I've been off a bike for four months with my injury, but things feel pretty good now. I just need more time on a bike. The series looks really good this year. Personally, I want to do better at Erzberg and Romaniacs. But I want to get as many championship points as possible from the earlier races and then when my bike fitness is better push as hard as I can. It's going to be a close championship, but I have a great team of people behind me so with a little time I know I can really start challenging for the podium. Winning at Lagares was a fantastic way to start the series last year, things are different this year but I'm ready to give 100% and fight for the WESS title."
Starting the 2019 WESS championship fully fit and highly motivated, Alfredo Gomez comes into this year's series focused on asserting himself as a championship contender. Gomez is ready to show what he's capable of outdoors, starting with Extreme XL Lagares – an event, that like team-mate Bolt, he has previously won.
Alfredo Gomez: "We are very close to starting the 2019 WESS championship, with Extreme XL Lagares. I have always done well at that race, so I am really looking forward to it. I know I can do well in the extreme races in the championship, I have won some of them before, and I have been practicing on enduro tests and fast sections, so I am looking to be close to the top in those races, too. I worked hard to get back stronger from injury so I hope that nothing strange happens this year and I can have a good season. Winning races is important but like last year showed, the most consistent rider is the one who will get the title. This year we have five extreme races so that will play in my favour."
The most experienced Rockstar Energy Husqvarna Factory rider, Graham Jarvis, recently extended his agreement with the team and will continue to race until at least the end of 2020. Expected to compete in selected rounds of this year's WESS series, Jarvis will also participate in additional high-profile hard enduro events across Europe and further afield.
Graham Jarvis: "My plan is to focus on the big extreme races this year. I'm getting older and with some races being close together it's more difficult for me to recover between them. But I still love competing and I think I still have a lot to offer to the team. Experience is always a plus, so I'm hoping I can use that to my advantage against the younger riders. The only problem for me is that nearly everyone else has experience in the extreme races, too. Erzberg is the main goal. I really enjoy that race and it would be great if I could challenge for one more win there. If I can get Erzberg or Romaniacs I'll be more than happy. I've already done some races this year that have showed me that I can still win, but with my age, really, any win is good. I am going to compete on the TE 300i for all the races. There have been some great improvements with the bike, and I feel really good with it."
Andi Hölzl – Rockstar Energy Husqvarna Factory Racing Team Manager: "We are really looking forward to the start of the 2019 WESS championship. Being able to compete with a full team at the opening round is really positive. Having Billy racing together with Graham and Alfredo means that we start as we always wanted to. Of course, it won't be easy for Billy. He's not had the time on a bike that he really needs, but we all know what he is capable of and we know he will do all he can to give his best and to defend his WESS title. 2018 was an incredible season for Billy and he is still learning, getting stronger and faster. Defending a title is never easy, especially when injury has stopped you training and riding for many months, but Billy starts the new series as the defending champion for many very good reasons. We're also excited to see what Alfredo can do this year. Alfredo has a lot of experience now and knows what is needed to do well at all races. He has a lot of motivation and truly wants to show what he can do in terms of results. By no means last, we have Graham – a rider that without question can still win. His age gets talked about a lot, more and more each year, but everyone knows just what he can do. Although he isn't competing in the full WESS series, we are very pleased that he will compete together with Billy and Alfredo in at least five WESS events, as well as additional hard enduro competitions around the world. In addition, the new bikes are a big step-forward – all riders are very happy, and the development of the fuel injected 2-stroke models is really positive. We're all looking forward to a good season."
STORY: WESS Heads To Portugal For 2019 Championship Opener
STORY: WESS Contenders – Riders To Watch In 2019
STORY: Stage Set For Eight-Round World Enduro Super Series
STORY: Billy Bolt Becomes The 'World Enduro Super Series' Inaugural Champion
INTERVIEW with Graham Jarvis: "I'm A Mountain's Man."
LINK: Husqvarna Motorcycles
LINK: World Enduro Super Series
photos (c) Marcin Kin