History has been made as Billy Bolt (Husqvarna – GBR) is crowned the 2018 WESS-Champion at the eighth and final round of the World Enduro Super Series, Red Bull Knock Out in The Netherlands.
Becoming the World Enduro Super Series' inaugural champion, the Rockstar Energy Husqvarna Factory Racing rider claimed the top step of the championship podium ahead of Germany's Manuel Lettenbichler (KTM) and Red Bull KTM Factory Racing's Nathan Watson (KTM – GBR).
With series winner Bolt well-known for his Hard Enduro skills, runner-up Lettenbichler the championship's best placed privateer and third placed Watson a motocross turned enduro racer, the final WESS podium well-reflected the championship's diversity and enduro spirit.
After seven rounds of Hard Enduro, Classic Enduro and Cross-Country racing, the first season of the multi-discipline Enduro series drew to a spectacular and action-packed close at the infamous Red Bull Knock Out Beach Race. With 1000 competitors taking to the start line for the one-hour morning qualifier – won by Watson – 750 riders earned their place in the two-hour Final.
Eager to impress in front of his home crowd, Coldenhoff set the early race pace, with Watson, Martens, Camille Chapeliere (KTM – FRA) and Britain's Todd Kellet (Husqvarna) in tow. During the opening half of the race, Coldenhoff set a blisteringly fast pace and appeared to have all under control.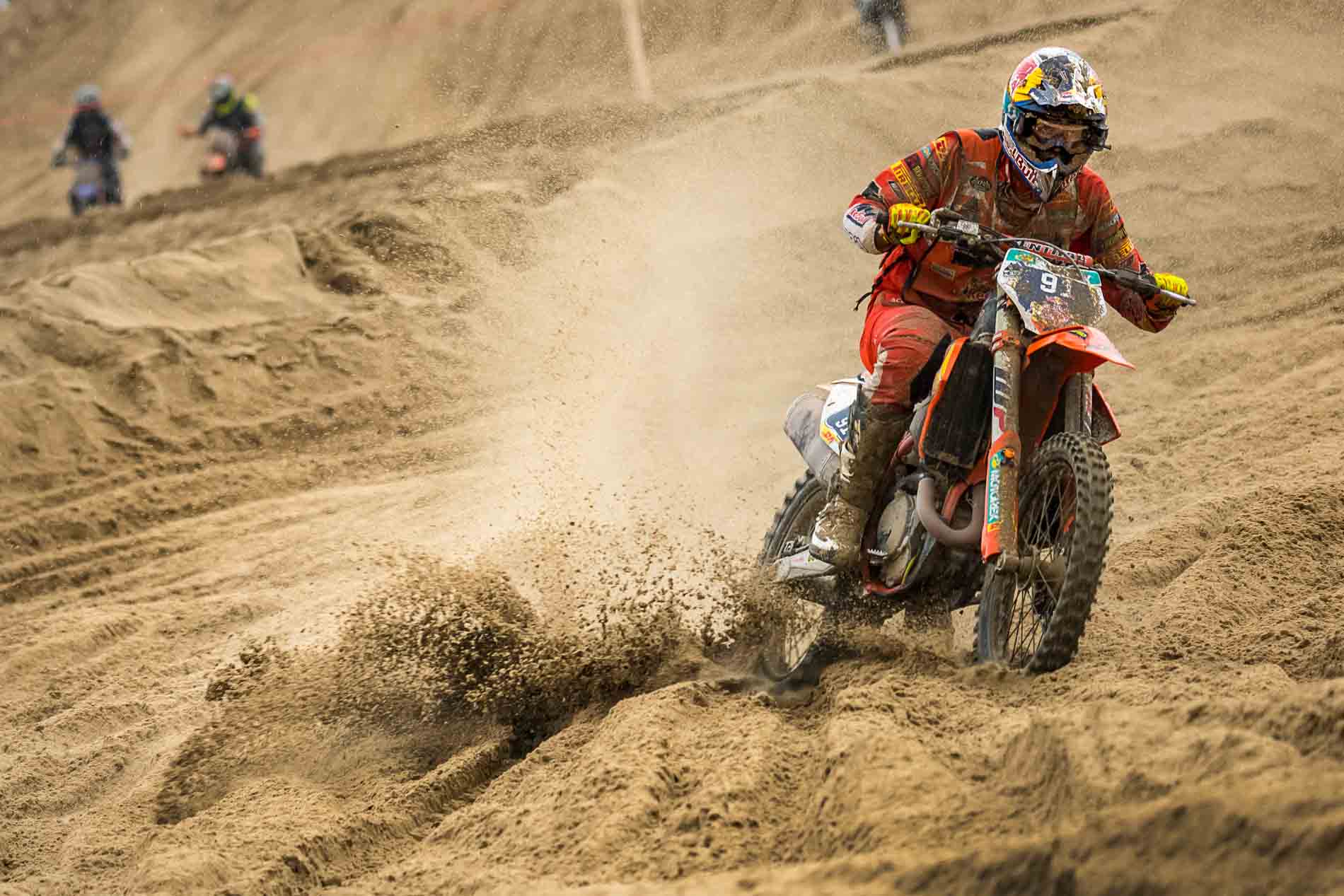 However, the opening of the extreme X-Loop for the final hour dramatically changed the flow of the race and Watson – putting his Enduro skills to good use – fought his way into the lead. Continuing his fast pace during the final laps, and with the track at his roughest, Watson stormed ahead to claim a 90-second margin of victory over Coldenhoff, with Martens coming through for third.
In the battle at the head of the World Enduro Super Series, all eyes were on title contenders Bolt and Lettenbichler, who were inside the top 20 of the 750 competitors. Positioning themselves out of trouble early on, the duo were closely matched with Bolt holding an important advantage.
However, two crashes by Bolt put him on the back foot during the closing stages of the race. Needing a lap to regroup he began to make headway, using the technical X-Loop to his advantage. Pushing clear of Lettenbichler and working his way up to 12th, the Husqvarna rider crossed the finish line as the newly-crowned ULTIMATE ENDURO CHAMPION.
Despite giving his best effort, Lettenbichler was unable to get the better of Bolt in the deep Dutch sand, finishing a creditable 15th to take the runner-up result in the 2018 World Enduro Super Series. In the fight for the final step of the championship podium, Watson's round eight victory saw him leap past teammate Josep Garcia (KTM – ESP) – who placed 16th – to secure third overall.
Billy Bolt (Husqvarna – GBR): "To become the ULTIMATE ENDURO CHAMPION is huge – I can't believe it yet and it's going to take a while for this moment to sink in. The race itself was crazy. I had two huge crashes and hit the ground hard, but apart from that I enjoyed it. It was tough making your way past all the other competitors – there were bikes everywhere. Also, the track conditions changed so much every lap and then the tide came in on the start straight, reducing it to half its width. I knew I needed to stay out of trouble as much as possible. And despite two crashes of my own making I pretty much did that. Overall, it's been such a long season, with so many different races. Winning round one at Extreme XL Lagares feels a life time ago. To race everything from Hard Enduro, Classic Enduro, Cross-Country and now Beach Racing and come out of it all as the ULTIMATE ENDURO CHAMPION is amazing."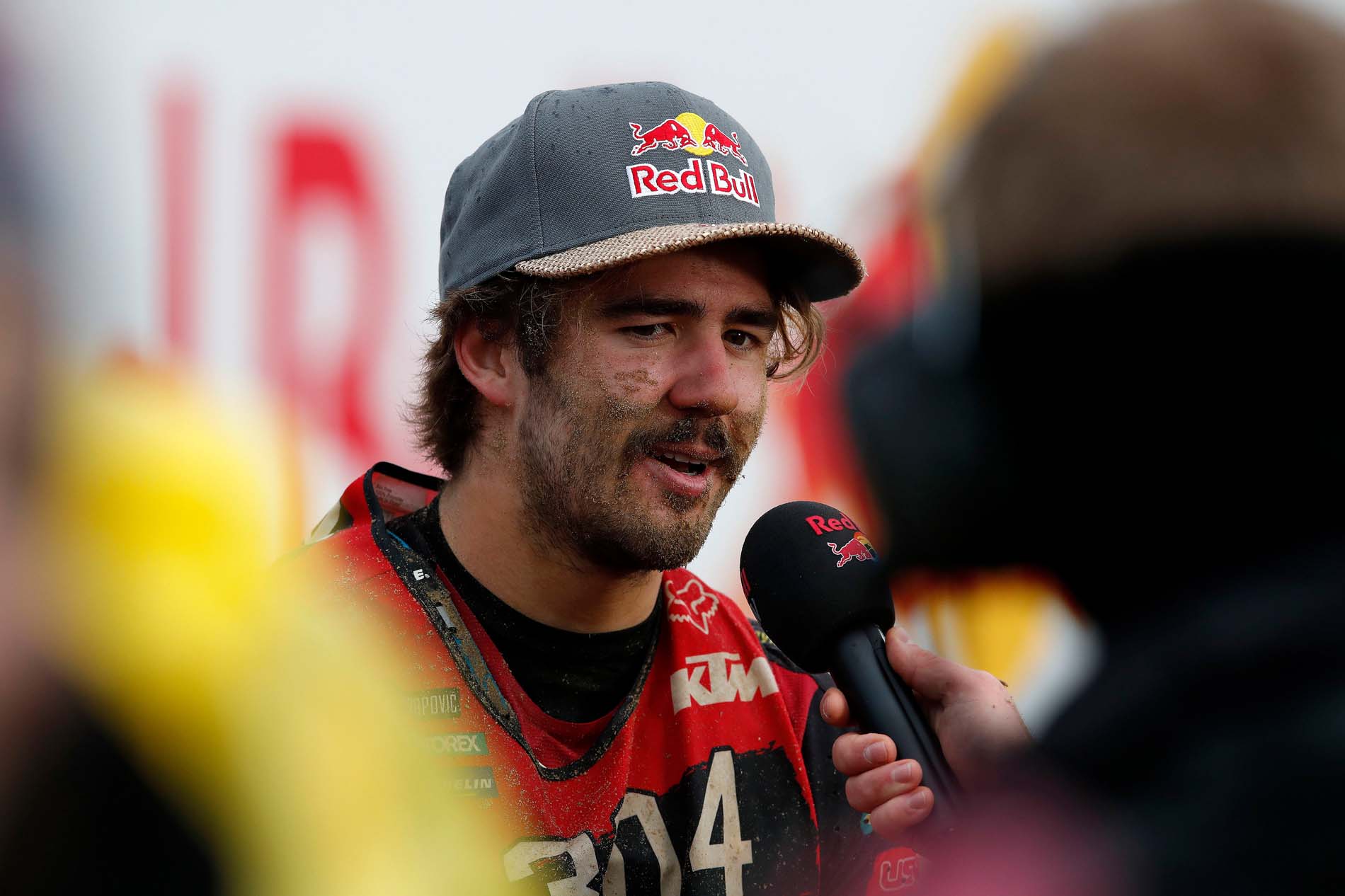 Manuel Lettenbichler (KTM – GER): "It's been an amazing year and to end it as the championship runner-up is beyond my pre-season expectations. I knew Billy was good in the sand, so my plan here was to try and keep him behind me and do my best to claim as many points as possible. I wasn't sure how things would be after hurting my thumb at the Gotland Grand National. But the adrenalin has kept the pain away today and I'm really happy with my ride. Overall, I have had some strong podiums and I really feel like I have come into my form and that I'm riding at the top of my game. To end WESS as the series' runner-up is amazing, but now I have to come back even stronger next year and take Billy's title. Congratulations to him, it's been a great year battling with him."
Nathan Watson (KTM – GBR): "I am so happy to win Red Bull Knock Out and end WESS third overall. This is a race I've been looking forward to all year and I came here to win. To get the job done is an amazing feeling, especially after finishing runner-up the last two editions. I did put myself under a lot of pressure coming here – everyone had me down as the favourite – but anything can happen, especially in Beach Races. I was ill last week and I didn't expect to be so strong, but the whole race went perfectly. Glenn got away really fast at the beginning, but I knew if I held on, I should come strong at the end. I can't thank the team enough, it's been a seriously tough year for me and I've learned a lot. To jump up to third overall in the WESS championship is incredible – it's the icing on the cake for me." (source: world enduro super series)
World Enduro Super Series Final Championship Standings
1. Billy Bolt (Husqvarna – GBR) 4800pts
2. Manuel Lettenbichler (KTM – GER) 4470pts
3. Nathan Watson (KTM – GBR) 4103pts
4. Josep Garcia (KTM – ESP) 4010pts
5. Taddy Blazusiak (KTM – POL) 3675pts
6. Paul Bolton (KTM – GBR) 3377pts
7. Wade Young (Sherco – RSA) 3220pts
8. Graham Jarvis (Husqvarna – GBR) 3010pts
9. Jonny Walker (KTM – GBR) 2900pts
10. Lars Enöckl 2272pts…
STORY: Billy Bolt – Racing His Way Back From Injury
STORY: Bolt, Jarvis & Gomez Set For Second Season Of 2019 WESS Competition
STORY: WESS Welcomes Eurotek KTM To 2019 Championship
STORY: WESS Announces Eight Round 2019 Championship
STORY: Nathan Watson gewinnt das "Red Bull Knock Out" (german)
LINK: World Enduro Super Series
photos (c) Future7Media & Jarno Schurgers – Red Bull Content Pool